Santa Ana's gay bar, the Velvet Lounge, is finally opening up this weekend, with festivities that start on Friday, Oct. 7 and run through Monday, Oct. 10.
"Velvet Lounge will open as Orange County's newest, gay owned and operated, restaurant and nightclub! Our beautiful location, in the historic downtown arts disctict of Santa Ana, will be open 7 days a week. Join us for lunch, dinner, happy hour, and nightly entertainment, featuring the areas best performers, hosts, and DJs. Relax on our large patio, or explore our inside lounges, and newly built Velvet underground, in our exclusive lower level. Be sure to join us for our weekend long Grand Opening celebration, coming soon; watch this website for more details and dates!"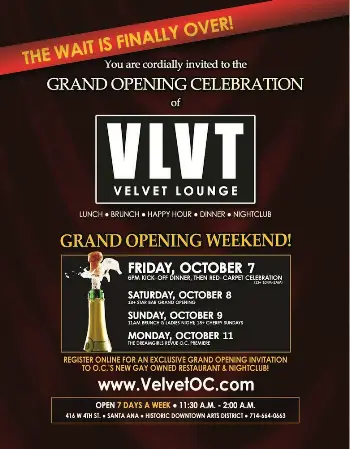 Click here to check them out on Facebook.
416 W 4th Street ▪ Santa Ana ▪ Historic Arts District
Information Line: 714-232-8727