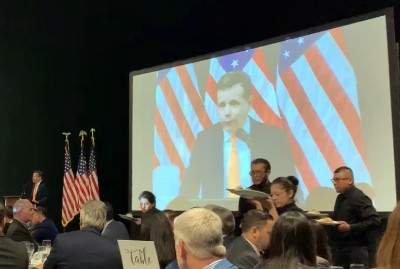 Santa Ana, CA – On Thursday, October 17, Santa Ana Mayor Miguel Pulido delivered his annual State of the City Address in which he highlighted the City of Santa Ana's regional partnerships, enhancements to public safety and renewed financial strength. Hosted by the Santa Ana Chamber of Commerce, the event was held at the Discovery Cube Orange County in Santa Ana; State Senator Thomas Umberg was present to introduce Mayor Pulido.
During the Address, Mayor Pulido announced his plans to build a state-of-the-art soccer educational facility with retired professional soccer player, Hugo Sanchez. The facility will serve thousands of soccer players in Santa Ana and beyond.
He highlighted other regional partnerships that will set the groundwork for the future of Santa Ana and the rest of Orange County as well including the OC Streetcar, a project being completed in partnership with the City of Garden Grove and the Orange County Transportation Authority (OCTA). The OC Streetcar is currently under construction and promises increased mobility in Orange County.
The Mayor also announced the approval of an 85-year ground lease with Rancho Santiago Community College District Continuing Education Center at Centennial Park. The $50 million project will bring several community benefits to the City including community meeting spaces, a branch library and classrooms. The Education Center will also provide Santa Ana residents a unique educational resource offering adult high school diplomas, citizenship classes, English as a second language and multitude of technical career training programs.
"This project has been in the works for many year," said Mayor Pulido. "I am proud to announce that we have finalized negotiations with the College and this project will soon be moving forward."
Mayor Pulido also discussed the City's strong financial state. The City of Santa Ana ended the year with a $6 million surplus that has been reinvested in the City's youth, homeless populations and public safety programs. With the investment in additional resources, the City's Quality of Life Team (QOLT) has been augmented with a new Daily Action Response Team (DART). The City now has additional Homeless Outreach Workers, two full time QOLT teams, and several DART teams working evenings and weekends to ensure that the City is clean at all times and that services are offered to end homelessness.
Additionally, the City of Santa Ana continues to be a hub for thriving businesses with over 1,000 new businesses opening in the last year. Award-winning restaurants continue to expand in the City, especially in the downtown area, and are creating a mecca of culinary experiences that benefit residents and visitors alike.
The Mayor also highlighted the Santa Ana Police Department's efforts to fast track the hiring of police officers to increase response times and is on track to hire 50 new police officers by December 2019. With staff expansion, the Police Department will be establishing a new Metropolitan Division, effective January 2020. The new division will consist of three elements: a Major Enforcement Team (MET), Gang Suppression Unit and a SWAT team. The MET will compliment and directly support the City's Community and Traditional Policing strategies with a focus on violent crime prevention, mitigation and proactive response.
The State of the City Address gathered over 450 attendees including several local elected officials: State Senator Tom Umberg, Santa Ana Mayor Pro Tem Juan Villegas, Santa Ana Councilmember Vicente Sarmiento, Santa Ana Councilmember David Penaloza, Santa Ana Councilmember Jose Solorio, Anaheim Mayor Harry Sidhu, Carson Mayor Albert Robles, Garden Grove Mayor Steven Jones, and Santa Ana Unified School District Board President Valerie Amezcua.
For more information about the City of Santa Ana, visit santa-ana.org.