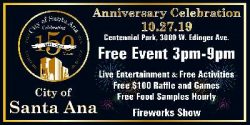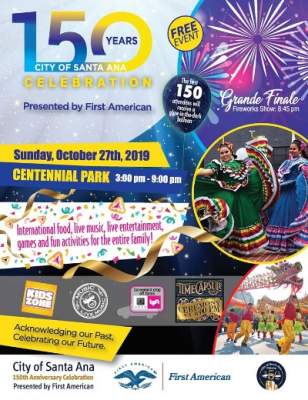 SANTA ANA, CA—The City of Santa Ana is celebrating its 150th Anniversary at Centennial Park on Sunday, October 27, 2019, where more than 3,000 people are expected to gather for an unforgettable day of food, live music and entertainment, cultural performances, games, time capsule ceremony, fun activities for the entire family and a grand finale fireworks show.
"It was 1869 when William H. Spurgeon first purchased 74.2 acres of land, built his town and named it Santa Ana," says City Manager Kristine Ridge. "This year marks the 150-year anniversary of the founding of our City and we are proud to celebrate this milestone with the entire community in honor of our rich heritage that is deeply rooted in Southern California's history."
Free and open to the public, the event begins at 3 p.m. and will culminate with a grand finale fireworks show at 8:45 p.m. The first 150 guests will receive a free glow-in-the-dark balloon, while free giveaways and drawings for $100 gift cards will be held every hour. In addition to international food choices, beverages and a special Beer & Wine Garden, the event will feature:
Live Entertainment On Two Stages:
• Music by Power 106 DJ Carisma
• Como La Flor
• Slapbak
• Rosie Cortez & the Bliss Band
• Los Cadetes
• SAUSD Marching Band
• SAPD K9 Show
Cultural Performances:
• Folklorico by Relampago del Cielo
• Break Dancers
• Chinese Dragon Dancers
• Native American Dancers
• Musical Theatre Performance by Santa Ana College
• Ballroom Dance by OC School of the Arts
• Local Talent Show Case
Kids Zone:
• Face Painting
• Balloon Artists
• Games
• Jumpers
• Arts and Crafts
• Halloween Costume Contest at 4 p.m.
The 150th Anniversary Celebration is presented by First American. Other sponsors include Waste Management, MainPlace Mall, McDonalds, Wells Fargo, Chevron, Ducks, NaphCare Inc., Northgate, Tetra Tech, Vista Heritage Global Academy, Curious Entertainment, StagePlus, Santa Ana Unified School District, and Santa Ana Chamber of Commerce.
For more information, visit www.santa-ana.org/events/150th-anniversary-celebration-0 or contact Julie Castro-Cardenas at jcastro-cardenas@santa-ana.org.
ABOUT THE CITY OF SANTA ANA
The City of Santa Ana is a 27 square-mile ethnically diverse city located 35 miles south of Los Angeles and roughly 10 miles inland from the Pacific Ocean. With a total population of over 330,000, Santa Ana is Orange County's second largest city and serves as the county seat. Incorporated in 1886, Santa Ana has long been the county's government powerbase. Santa Ana's centralized location puts it less than 30 minutes from most Southern California destinations, including four airports. Its density and mass transit infrastructure enables residents and employees to embrace a green lifestyle, commuting to work by bus, train, bicycle and foot. This convenience attracts a diverse population that appreciates Santa Ana's distinctive, affordable housing choices, energetic nightlife and cultural amenities. For more information, visit www.santa-ana.org or follow Santa Ana on Facebook, Twitter and Instagram.