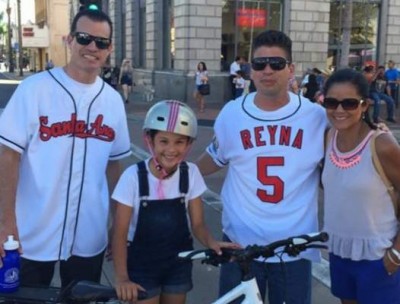 Did Santa Ana's taxpayers pay for Team Santa Ana's jerseys too?
Isn't it interesting that the City of Santa Ana scheduled their Ciclovia event a month before the General Election?  And sure enough Councilman David Benavides and his pal Roman Reyna, who is running for Mayor, were there in full force, promoting themselves at the City's expense.
A friend of mine figures the City had to have spent a small fortune on City employees including perhaps 30 police officers and public safety personnel.  And who knows how much they spent on marketing the event?  I hear that the turnout was not great.  A reader estimated total turnout at under a thousand with perhaps half of them comprised of staff and volunteers.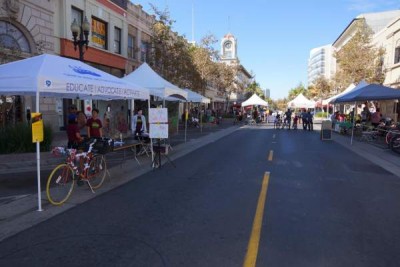 The weather was awful on Sunday and that might have had something to do with the low turnout but on top of that there were baseball and football games on TV.  Why go bake in the hot sun – unless you were there to worship Benavides and Reyna?
It is possible that the City of Santa Ana spent close to six figures on this thinly veiled political event – essentially to promote Team Santa Ana even as it was falling apart.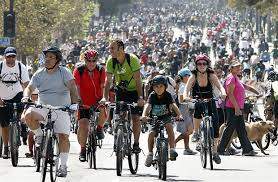 Ironically Los Angeles had a Ciclovia this weekend too but the turnout at their event was huge (see picture above).  Not so the turnout in Santa Ana (see picture below).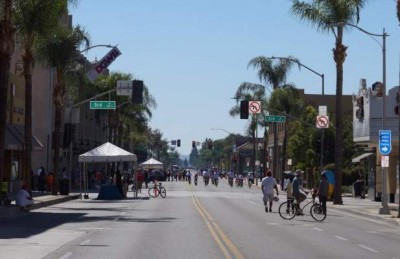 I am sure the folks who pushed for this event were well-meaning but is this really the best use of city resources?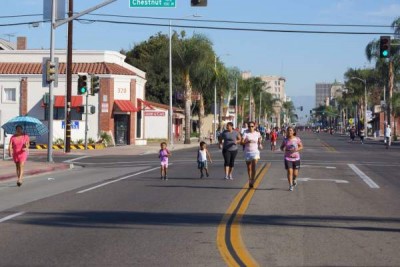 It sure seems like folks were afraid to ride their bikes at the Santa Ana Ciclovia.  With good reason as the City police can and will ticket you for riding an unregistered bike.  Problem is you have to register your bike at the police station during work hours when most of us are, well, at work.
Maybe instead of spending thousands of dollars on events to promote our lame City Council incumbents the City Council should just get rid of our mandatory bike registration ordinance?