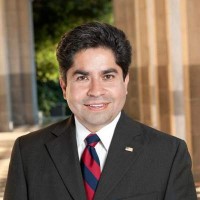 FOR IMMEDIATE RELEASE: October 7, 2014
FOR MORE INFORMATION: Maria Unzueta, 657-464-4742
CALIFORNIA ASSOCIATION OF HIGHWAY PATROLMEN AND FOUR OTHER MAJOR LAW ENFORCEMENT ORGANIZATIONS ENDORSE JOSE SOLORIO FOR STATE SENATE
The Five State & Local Organizations Represent Rank And File Public Safety Officers Throughout Both Orange and Los Angeles Counties
SANTA ANA – Jose Solorio announced today that the California Association of Highway Patrolmen (CAHP) has endorsed his campaign for the 34th State Senate District. The group, which represents California Highway Patrol Officers, is one of the largest law enforcement organizations in the state with over 14,000 active and retired members.
Solorio also announced endorsements from the Peace Officers Research Association of California (PORAC), the Association for Los Angeles Deputy Sheriffs (ALADS), the Los Angeles Police Protective League (LAPPL), and the Los Angeles County Professional Peace Officers Association (PPOA).
"Jose Solorio has a proven record in the State Legislature that shows his strong commitment to prioritizing public safety and providing important support for our public safety officers," said Doug Villars, President of the California Association of Highway Patrolmen. "He wrote state legislation to secure over $100 million for new jail construction to prevent the early release of criminals in Orange County and also supported crucial funding for anti-gang efforts in our cities."
"I am excited and honored to have the support of these five prestigious law enforcement organizations," said Solorio. "I look forward to working with them in the State Senate to make sure they have the important resources they need and deserve to continue the great job they do day in and day out, keeping our community safe."
The 34th district includes the communities of Anaheim, Fountain Valley, Garden Grove, Huntington Beach, Long Beach, Los Alamitos, Midway City, Rossmoor, Santa Ana, Seal Beach and Westminster.
Jose Solorio is the President of the Board of Trustees for the Rancho Santiago Community College District, which oversees Santa Ana College and Santiago Canyon College, and represents 700,000 residents in the cities of Anaheim, Garden Grove, Irvine, Orange, Santa Ana, Tustin, and Villa Park. Prior to that, he represented the cities of Anaheim, Garden Grove and Santa Ana in the State Assembly for six years. He holds a bachelor's degree from UC Irvine and a master's degree in public policy from Harvard University. To learn more about Jose Solorio and his State Senate Campaign, please visit www.SolorioForSenate.com,
Facebook.com/Solorio4California, and/or Twitter.com/JoseSolorio.
#####