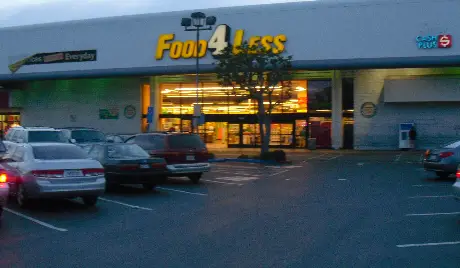 Walmart is opening two new stores in Orange County, in Irvine and in Huntington Beach, according to the O.C. Register.  Walmart also recently opened a new superstore in Anaheim.  But there is no truth to the rumor that they are planning to open a store at the vacancy created when Food for Less closed their store in northeast Santa Ana, on Grand and 17th, according to Karen Haluza, a Planning Manager at the City of Santa Ana.
Haluza confirmed via email that there are in fact no current applications to fill that vacancy.
The Santa Ana City Council effectively banned big box superstores in 2007.  "Under the new regulations, big-box retailers must apply for a conditional-use permit and identify the benefits and costs to existing stores within a three-mile area," according to the L.A. Times.
The City Council could make an exception to that ban, but that isn't likely, and Haluza noted that it is tough to find new tenants given the current economic conditions.
I would love to see a new Walmart open up at this shopping center.  It just doesn't seem likely.