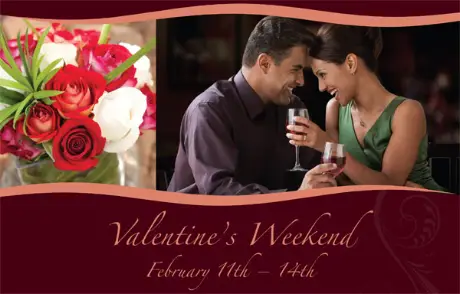 McCormick & Schmick's, in Santa Ana, is a great place to dine over Valentine's Weekend.  They are offering delicious Chef's features including Seared Ahi Tuna for Two, Lobster Ravioli, Filet Mignon & Shrimp Scampi and a Hawaiin Seafood Trio. They will also be including custom menu messages, flowers and more.  Click here to check out their website.
McCormick & Schmick's is located at 2791 Main St., across from the MainPlace Mall, at the CityPlace. Now all you need are flowers.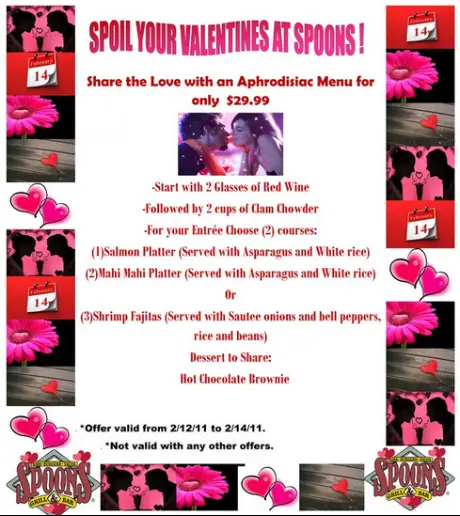 Now this is a good deal!  Spoons, in Santa Ana, is offering a special aphrodisiac Valentine's Day meal for two, for only $29.95.  The offer includes (2) glasses of wine, two cups of clam chowder, and your choice of (2) entrees – pick from a Salmon Platter, a Mahi Mahi Platter, or Shrimp Fajitas.  And you get a hot chocolate brownie to share!  Click here to RSVP on Facebook.  They are located at 2601 Hotel Terrace Drive, near Dyer and the 55.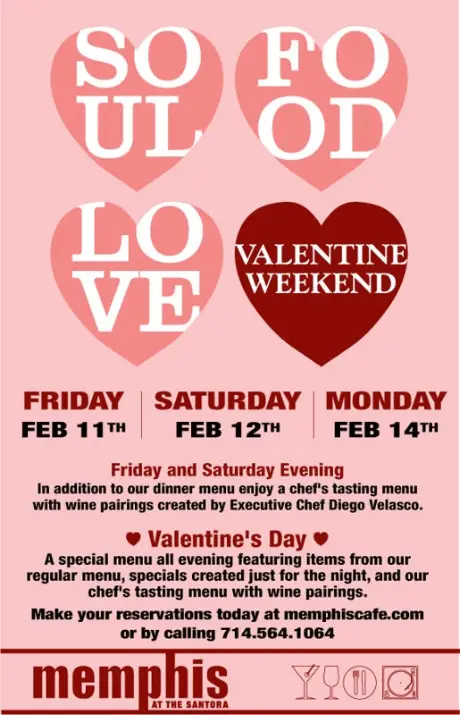 For a soulful meal, try the Memphis at the Santora.  They are offering a special Valentine's Day menu throughout Valentine's Day weekend, including specials created just for the night – and their chef's tasting menu with wine pairings.  Click here to visit their website.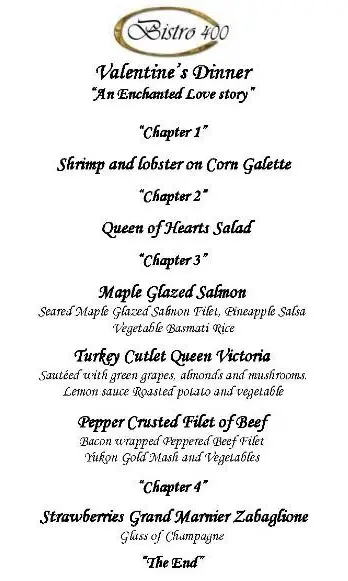 Just up the street from the Memphis is Bistro 400.  They are offering a Romantic Evening with the smooth voice of Shari Cyrkin. Chef Pierre has created an incredible Enchanted Love Story Menu! Only $50 per person, plus tax and gratuity. And to make your evening just a bit more special, they will include a glass of champagne for each customer.  Check out their three course menu in the graphic above.
Bistro 400 is located at 400 W. 4th St., in Santa Ana.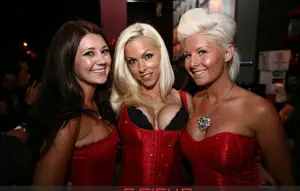 Santa Ana's Geisha House is going all out this Valentine's Day.  They are located at 2773 North Main St., in Santa Ana, across from the MainPlace Mall, at the CityPlace .  Click here to make your reservations.
Here is Geisha House's special Valentine's Day menu:

Tangata, at the Bower's Museum, is also offering a special Valentine's Celebration Menu, on Saturday, February 12 and Sunday, February 13 from 11am-3pm, and on Monday, February 14 beginning at 5pm.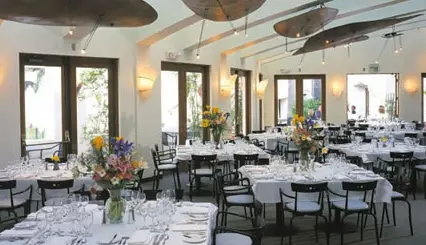 Tangata (or "mankind" in the tribal Maori language of New Zealand) features Southwestern decor enclosed by glass walls and a ceiling framed with stuccoed beams and large windows to allow ambient light to illuminate the main dining area. Located in the Bowers museum's Mission-style courtyard, the restaurant serves a diverse menu of California cuisine "colored" with Joachim Splichal's award-winning French signature style.
Here is Tangata's Special Valentine's Day Celebration menu:
Appetizer selection
Spicy tuna tartar, avocado, wonton, yuzu aïoli micro shiso
Tower of red Belgian endive, roquefort and candied walnuts
Second course selection (optional)
Seared diver scallops wrapped with apple wood smoked bacon, black rice, basil nage
Zinfandel risotto, trio of peppers, Parmesan
Entrée Selection
Filet mignon harissa, red beet potatoes, wilted field watercress, pomegranate reduction
Local petrale sole, pancetta, parsnip purée, glazed baby carrot, basil nage
Oven-roasted double rib lamb chop, cassoulet, rosemary lamb reduction
Dessert Selection
Rose petal macaroon, lychee sorbet, fresh raspberry sauce
Chocolate sable cake, citrus sorbet, kumquat confit
Three course menu $50. Four course menu $55.  Tax and gratuity additional.
Tangata is located at 2002 N. Main St., in Santa Ana.  Call 714.550.0906 or click here.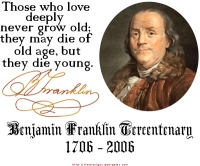 For a unique gift this Valentine's Day, why not buy your loved one a pass to the Bowers Museum? Join or Give Today for two FREE tickets to "Benjamin Franklin: In Search of a Better World" plus a year of FREE admission to the Bowers Museum and Kidseum, Programs and Gallery Store discounts, exhibition previews, a subscription to the Bowers Museum Newsletter Passport and many other benefits. Please email membership@bowers.org or call 714.567.3639.