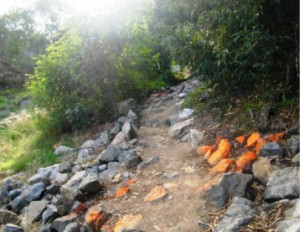 Santa Ana bike trail activist Bruce Bauer, of the Neighbors for Santiago Creek Bike Trail, emailed an update today regarding the missing link on the Santiago Creek bike trail.  The good news is that we are making progress, but hurdles remain: 
We wanted to update you on the status of the Missing Link. We are pleased to inform you that the Missing Link is now on the City's proposed Circulation Element. However, it is only ONE of TWO proposals to close the gap in the are of the Missing Link. Instead of the ¼ mile trail in Santiago Creek, or the Missing Link, the alternative route is an on-street route which would proceed south on the east side of Main St to Santa Clara, then west on Santa Clara to Flower and north on Flower to Memory Lane.

In other words, in order to bypass the quarter mile in the Missing Link, the Consultants have proposed a route over four times the distance, and located on heavily-traveled streets and through busy intersections (the intersections are not ordinary intersections either but include freeway on-ramps (Main Street) and freeway off-ramps (Broadway).) Needless to say, this route is manifestly unsafe. Frankly, one would be hard pressed to devise a more dangerous route for families with bicycles.
Our pressure is bearing fruit. The Missing Link wasn't even on the proposed ciruclation element until recently! We need to continue to bring pressure to bear on our elected officials so they select the Missing Link rather than the ridiculous alternative. This is important.
We suggest that you contact two elected official in this regard: (1) Mayor Miguel Pulido; and (2) Supervisor Janet Nguyen (she Supervisor for this area.) You can contact Janet Nguyen via her policy adisor, via email, phone and snail mail: Frances Cadenas at frances.cadenas@ocgov.com / (714) 834-3110, 333 W. Santa Ana Blvd., 5th Flr., Santa Ana, CA 92701. You can contact Mayor Pulido via email mpulido@santa-ana.org, (714) 647-5200, City Hall, 20 Civic Center Plaza, Santa Ana, CA 92706.
Thank you for your continued support.
Neighbors for Santiago Creek Bike Trail