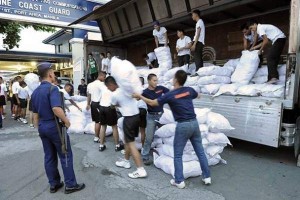 The Santa Ana Love the Philippines" relief drive was a big success – after 6.5 days of preparation and 3 hours of relief drive they collected:
$1224 of monetary donations (100% wired on November 19 to, Praise Immanuel Christian Ministries, Philippines through Wells Fargo bank). This church will start relief operation on November 25, 2013
175 plus canned foods, 402 lbs rice, 92 gal of water, 25 can openers, 15 blankets. (shippied for free on November 18 through LBC shipping)
People can continue to donate checks to: First Presbyterian Church, Santa Ana. (memo Philippines), at 600 North Main Street. Santa Ana, Ca 92701. Or call for check pick up. Jerry Laforteza (714)650-0030.
"Don't ask what Santa Ana can do for you, but ask what you can do for Santa Ana Loves the Philippines"