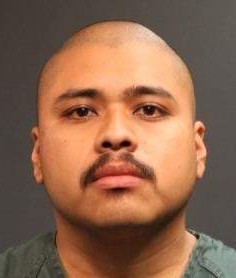 ORANGE COUNTY DISTRICT ATTORNEY PRESS RELEASE
Case # 15CF1723
Date: August 4, 2015
GANG MEMBER ON PROBATION CHARGED WITH POSSESSION OF FIREARM AFTER EVADING POLICE IN ENJOINED GANG NEIGHBORHOOD
*OCDA will issue a full factual legal report on the OIS when the investigation is completed
SANTA ANA, Calif. – A gang member on probation was charged today by the Orange County District Attorney's Office (OCDA) with possession of a firearm after evading police in an enjoined gang neighborhood on Townsend Street in Santa Ana. He was alsoinvolved in an officer-involved shooting (OIS) in relation to this case. Armando Antunez, 24, Santa Ana, is charged with one felony count of possession of a firearm by a felon, one felony count of possession of a firearm by a probationer, one felony count of possession of a firearm within 1,000 feet of a school, one felony count of street terrorism, and a sentencing enhancement for criminal street gang activity. Armando Antunez has a prior strike conviction for Case #14CF0791. If convicted, he faces a maximum sentence of 19 years in state prison. The People will request he be held on $200,000 bail in this case and is subject to a no-bail probation violation hold. Armando Antunez is expected to be arraignedat a later date and the time is to be determined.
Deputy District Attorney Mena Guirguis of the TARGET Unit is prosecuting this case.
Probation Case #14CF0791
On March 1, 2014, Armando Antunez, his friend, and two other members of the same criminal street gang were driving through a street in a Santa Ana area known for gang activity. When officers from the Santa Ana Police Department (SAPD) attempted a traffic stop, a short car chase ensued. The pursuit ended shortly thereafter in a parking lot and the four defendants were arrested. A loaded unregistered firearm was found in the vehicle.
On Dec. 11, 2014, Armando Antunez pleaded guilty to one felony count of having a concealed loaded unregistered firearm in a vehicle and one felony count of street terrorism and was sentenced to one year in jail and three years of special gang-term formal probation by the court which expressly prohibited him from possession of any firearm and associating with other criminal street gang members. Armando Antunez explained the basis of his guilty plea by stating that on, "March 1, 2014, I was a member and active participant in the [named] criminal street gang, and I, with other members of my gang, carried an unregistered loaded and concealed firearm within a vehicle."
Gang Injunction Lawsuit Against a Santa Ana Criminal Street Gang
On June 12, 2014, Armando Antunez and his two older twin brothers, Sergio and Daniel Antunez, 25, both of Santa Ana, were named in a civil gang injunction lawsuit. Armando Antunez was not served as he could not be located, so he is not currently enjoined. Sergio and Daniel Antunez were served with the Notice of Lawsuit, and Sergio Antunez was enjoined in the gang injunction after the court found him to be an active participant of the criminal street gang named in the injunction. Daniel Antunez is contesting inclusion in the gang injunction and is expected in courtAug. 12, 2015, at 9:00 a.m. in Department C-14, Central Justice Center, Santa Ana.
In the background summary starting on page 108 of the Gang Injunction lawsuit, the People attached expert declarations stating the following:
On June 21, 2013, Armando Antunez was a victim of a drive-by gang shooting. He admitted to being with fellow criminal street gang members at the time of the shooting.
On July 14, 2013, during patrol, SAPD officers observed someone flee into a residence where the three Antunez brothers lived. Since Daniel Antunez was on probation at the time, a probation compliance check of the residence was conducted. Armando Antunez was inside the residence and in possession of a small caliber bullet. Two bindles of methamphetamine were also found.
On July 30, 2013, after spotting SAPD officers on patrol, Aramndo Antunez is accused of fleeing from them along with other fellow criminal street gang members. Armando Antunez is accused of being in possession of methamphetamine after the officers caught up with them and conducted a pedestrian stop.
The background summary on pages 108 to 114 of the Gang Injunction lawsuit regarding the Antunez brothers will be made available upon request.
OIS Incident
The OCDA is investigating the OIS incident in Santa Ana involving Armando Antunez. At the end of the investigation, the OCDA will release a full factual detailed report regarding this incident and post its results on the homepage at www.orangecountyda.org. It is the policy of the OCDA office to not release further details at this time.
The investigation is ongoing. Anyone with additional information regarding this case is encouraged to contact the OCDA hotline at (714) 347-8544.
###
TONY RACKAUCKAS, District Attorney
Susan Kang Schroeder, Chief of Staff
Office: 714-347-8408
Cell: 714-292-2718