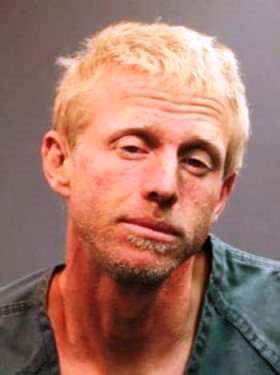 If you need yet another reason to stay away from meth consider the fate of 37-year-old John William Rodenborn, a man who was arrested today at around 10:30 a.m., at the Santa Ana Zoo while he was shirtless and covered with mud, claiming to be Tarzan and was swinging from the trees and trying to break into a monkey pen, according to the O.C. Register.
Rodenborn, a local transient, was found to be under the influence of meth and in possession of meth as well.  He apparently jumped over a safety fence that is supposed to keep the public out of the monkey exhibits.  He tried to escape when the cops showed up but they were able to detain him.
Rodenborn has previously plead guilty to being under the influence of drugs and burglary charges.  He was cited today for possession of Meth and released.
The Zoo was open when Rodenborn went on his monkey escapade but apparently he did not bother anyone – except for the monkeys.  But the Zoo director, Kent Yamaguchi, said the monkeys were not disturbed and their cages were not damaged.
The Santa Ana Zoo is located at 1801 East Chestnut Avenue, in Santa Ana, at Prentice Park, in Ward 1, which is represented by Mayor Pro Tem Vince Sarmiento.
This debacle is what we were worried about when the Orange County Supervisors voted to put a homeless shelter in the middle of a poor Latino neighborhood on the City's east side.  Fortunately they scuttled that idea and are now looking to place a homeless shelter in Anaheim instead.