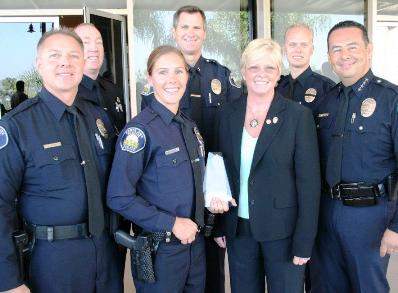 SAUSD's Reaction to Connecticut School Shooting
We would like to express our thoughts and prayers for the families that have been impacted by the senseless crime that occurred today at an elementary school in Connecticut. We, along with the nation, are saddened that something of this magnitude could happen to our young, vulnerable children, those that serve them, and the entire school community.
As we mourn, it gives us pause to reflect on our own practices of how we ensure the safety and security of our students and learning environment. We are fortunate in Santa Ana that our Board of Education is committed to ensuring that safety is our top priority.
Our Board of Education has long been committed to the safety of our students. We are the only District in Orange County to have its own police force. We have invested in our police, and our officers are integral to ensuring the safety of our schools. Our police department is operational 24 hours a day to ensure the safety of our school community.
We want you to know that we are very confident in our safety plans; however, we will continue to review and refine our procedures for events that we hope will never occur.
We are supporting our parents and students in providing them with resources through our crisis response team – including school psychologists, counselors, and mental health professionals. We are telecommunicating to our parents about a resource guide that is available to them on our website. On Monday and Tuesday, we will have teams available to students, staff and parents who seek support. As always, our teachers are trained to look for students in need of counseling.
Below you will find a link to a resource guide to assist you during this time. Please feel free to share it with those around you.
###
Editor's Note: There are a lot of
rumors making the rounds
about supposed threats at some of our schools.  I checked with the SAUSD Superintendent, the SAPD and the SAUSD School Police tonight and confirmed that there are no actual threats at this moment.  If you have a need to contact the SAUSD School Police,
click here
to see their phone numbers and email addresses.  Also, you can call the WE TIP hotlines anonymously at these phone numbers:
800-78-CRIME 800-47-DRUGS
800-47-ARSON 800-US-FRAUD
855-86-BULLY 800-6-HITNRUN