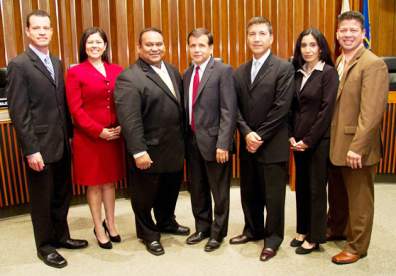 "Santa Ana city officials are scrambling to address a $56 million demand by the state due by Friday," according to the union-funded Voice of OC.  The State of California is run completely by Democrats now, from the State Legislature majority to all of the State's elected leaders, including Governor Jerry Brown.  And now they are trying to bankrupt our city!
"The money is to come from what's called low-and-moderate income housing funds. Redevelopment agencies were required to set aside 20 percent of their property tax increment revenue – the funds that cities had diverted from going to other local governments in redevelopment zones – for affordable housing programs," according to the Voice of OC.
It would appear that the Benavides Council cabal has chosen a particularly bad time to try to fire City Manager Paul Walters…
Will new Assemblyman Tom Daly lift a finger to help our city?  What about State Senator Lou Correa?  The ball is in their court.  Unfortunately the Sacramento Democrats just don't care about Orange County and apparently they don't care about the well-being of Santa Ana's residents either.
UPDATE:
State Senator Lou Correa sent me a response today via email, through one of his staffers:
"I appreciate that you have taken the time now to draw much-needed attention to this issue. As you know, I am a long-time resident of Santa Ana and I stood firmly to protect jobs and the local economy as one of only two Senate Democrats to vote against the elimination of redevelopment funds. Since then, my staff and I have worked with Department of Finance to develop a honest and fair resolution for many of the cities in my district such as Buena Park, Orange and Anaheim. In the case of Santa Ana specifically, my office has sent two separate letters to the Department of Finance urging that their demands be reconsidered. We will continue to use the full resources of my office to support Orange County cities in these efforts," commented Senator Correa.
Thank you Senator Correa for trying to stop your fellow Sacramento Democrats from bankrupting Santa Ana.  I hope you succeed in these efforts.
So far there is no response from Assemblyman Daly.