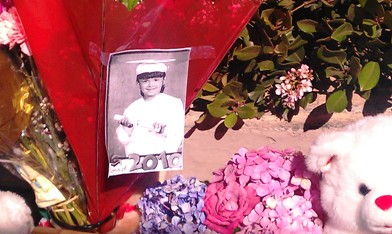 Santa Ana Police Department Community Alert:
The City of Santa Ana Wishing a local family a Merry Christmas
The Santa Ana Public safety community who were all affected by the tragic events of June 23, 2012 that struck a local family have all come together to provide a special child and her family a Christmas celebration. Please join us today December 20, 2012 at 10:00 a.m. in front of the Police Department and in the SAPD Community room.
Details: On June 23RD at 1100 am a mother (Eloisa Magana) and her two daughters ( Osmara Meza, 5) and (Grecia Meza 7 ) crossing 17th Street from north to south in the marked crosswalk when a vehicle traveling west on 17th Street ran a red light at Spurgeon Street and struck the three pedestrians in a marked crosswalk. The driver and sole occupant of the vehicle, Jessica Louise Cowan, 33 years, made no attempt to slow or stop as she continued driving west on 17th Street. A nearby motorist who witnessed the collision followed Cowan and blocked her vehicle from any further escape until police arrived. The youngest daughter Osmara 5 years, died at the scene from injuries sustained in the collision. The mother Eloisa and daughter Grecia both sustained serious critical injuries and were transported to the hospital for treatment.
###