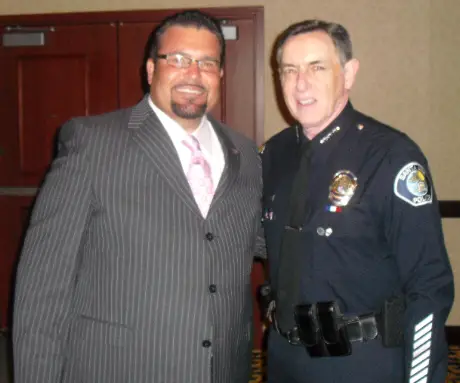 Chisme has it that failed Santa Ana Mayoral candidate David Benavides is claiming to have the votes to fire City Manager Paul Walters, even though Walters' contract stipulates that if that happens he gets to become the Santa Ana Police Chief once more.
In the past year Walters has recieved numerous awards including: the Orange County Bar Association's Sammy Award; he made it onto OC Metro Magazine's Hot 25 List; he was lauded with a cover feature in the Cal Chief's "Behind the Badge" Magazine; he received the Media Champion Award from the Mental Health Association of Orange County; and Forbes ranked Santa Ana as the fourth safest large city in the U.S., under his watch.
Walters was recognized by the Orange County Gang Investigators Association for starting a special gang homicide unit.  It's the only one in the county, set up in 1988 when he became chief, according to ABC News.  Even his critics at the union-funded Voice of OC had to admit that, under Walters, "For the first time in years, the Santa Ana City Council passed a balanced budget this week without having to tap reserves, thus officially ending a budget crisis that had some city leaders considering municipal bankruptcy."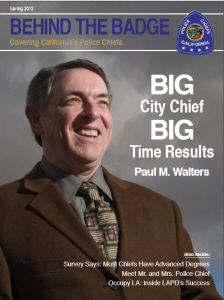 What Walters has done with our city budget has been a real miracle.  He has yet to receive any thanks from Benavides and his troika – Michele Martinez, Roman Reyna and Vince Sarmiento.  They did nothing to save this city.  But they are reaping the rewards – appointing themselves recently to every key municipal commission appointment.
Word has it that Martinez is still ticked off that her step-brother, Pedro Franco, was arrested, back when she was running for Mayor, against Mayor Miguel Pulido.  But her step-brother has a different last name and the cops had no idea who he was.  It was just serendipity.  But she has held a grudge against Walters ever since.  Her response at the time was all about her…and so is her ongoing hate for Walters.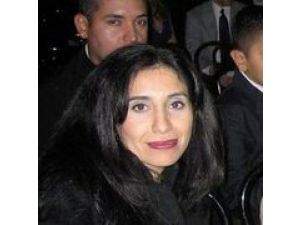 The problem for Benavides is that he needs five votes to fire Walters.  I can't see new Council Member Angelica Amezcua siding with Benavides.  She was recruited as a candidate by former Santa Ana Mayor Pro Tem Claudia Alvarez, who is allied with Walters.
Benavides can count on Martinez, Reyna and Sarmiento.  But he needs one more vote.  It won't be Amezcua.  And it also won't be Santa Ana Mayor Pro Tem Sal Tinajero, who has always appreciated Walters' hard work on behalf of our city.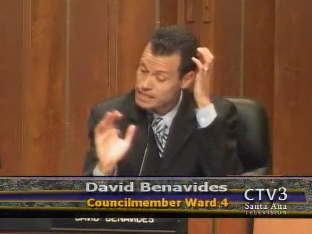 So Benavides is in a bit of a bind here.  Will he find a way to sway Amezcua?  I am told Tinajero and Mayor Pulido are going to side with Walters.  Will anything go Benavides' way this year?  I would imagine he can't wait for the New Year.
I must say that so far Benavides and company are acting a lot like the awful Council Members in East Los Angeles cities like Bell, Cudahy, Hawaiian Gardens, Compton, etc.  Remember that Benavides is from East Los Angeles.  And Martinez wasn't born here.  Nor was Sarmiento.  Tinajero is a product of Santa Ana and he isn't going to let these clowns ruin our city.  I have faith in him – and in Walters.  It is too bad that we now have a cancer cell on our Council.  We'll have to deal with them in the 2014 elections.
In the meantime rumor has it that the Benavides bunch is going to call for an emergency meeting this Friday.  Good luck with that!