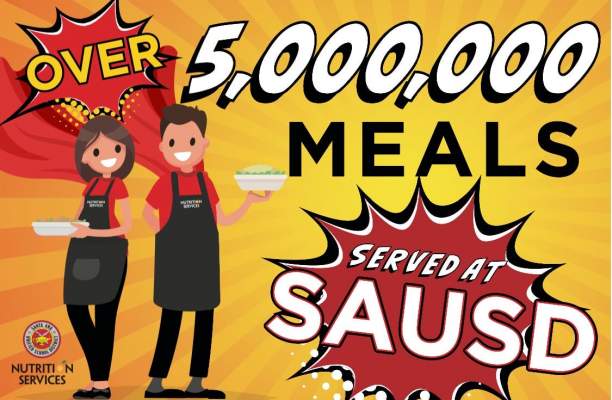 A year after committing to provide free, nutritious meals to local children in the face of the pandemic, SAUSD has served more than 5 million free meals as a help to families and the community.
A year after committing to provide free, nutritious meals to local children in the face of the growing COVID-19 pandemic, the Santa Ana Unified School District (SAUSD) has reached the significant milestone of serving more than 5 million free meals to children as a help to both SAUSD families and the community.
Early on in the pandemic, the SAUSD Board of Education prioritized the need to continue providing all children with free, nutritious meals even as school campuses were being temporarily closed to help curb the spread of the virus. As a result, free meal distribution has continued to be a priority for the District during the last year.
"When campuses shut down last March, we didn't know for how long. Yet our Board of Education made clear: SAUSD was committed to providing the nutrition our students and community children need, and in many cases rely upon," said Josh Goddard, Director of Nutrition Services for SAUSD. "One year later the District has served more than 5 million meals to the children of Santa Ana. The District's meal services efforts have been a constant resource for families during a period of economic uncertainty, personal loss, and risk to their physical and mental wellbeing."
In May 2020, the District distributed its 1 millionth free meal and marked the occasion with an intimate celebration highlighting the contributions of District staff that worked the front lines to provide these vital resources to families.
Later that month, SAUSD continued its pledge to provide free food to the community by launching a summer meal program that ran through July 2020.
In Fall 2020 as the pandemic wore on, the District heeded feedback from the community and expanded its meal distribution schedule to include six different time slots to better accommodate working families' schedules.
Earlier this month, seeing the continued need in the community, SAUSD also began serving weekend meals to all children. Children are now served a breakfast, lunch, snack, and a "super snack" for both Saturday and Sunday in addition to Friday's meals during Friday distribution times.
Throughout the pandemic, SAUSD employees have continued to serve up free, healthy meals to all children ages 1-18 in a grab-and-go style that protects the health and safety of all involved.
"Though we wish to never again experience such a devastating crisis, we hope the community feels some comfort knowing they can always count on SAUSD," said Goddard.