If you were wondering what happened this afternoon in Santa Ana, on 17th Street, we now know that the SAPD raided the Happy Times Cyber Internet Café, which was investigated as a front for gang activity, according to ABC News.
The SAPD SWAT team searched the Happy Times Cyber Internet Cafe, which is located at 1117 17th Street, at about 3:30 p.m. while police questioned dozens of people in an adjacent parking lot after receiving multiple complaints of suspicious activity from nearby residents, according to the O.C. Register.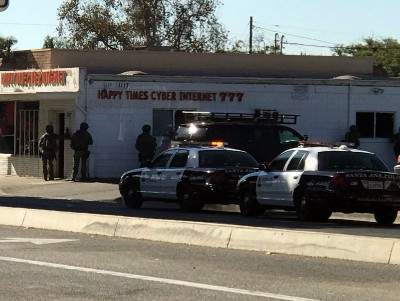 Fifty people were removed from inside the cyber cafe by the SAPD as the SWAT team served a search warrant on the establishment, which is a 24-hour video gaming lounge.
In the past 10 days SAPD detectives have arrested multiple documented gang members including five for possession of hand guns according to the SAPD's Twitter page.
We could not find any web pages or social media accounts for this cyber cafe, which has apparently been open for less than a year.
A resident said that his father's truck was stolen about two months ago less than a block away from the cyber cafe. He also said that you could hear people screaming inside the establishment at two or three in the morning.
Of the over 50 cafe patrons that were interviewed by the police five suspects remained in custody and the SAPD expects that number to grow by tomorrow.
The raid shut down a section of 17th street from Towner Street to Rosewood Avenue between 3 p.m. and 6 p.m. which made the ride home a nightmare for local residents.
One has to wonder why this cafe was allowed to stay open when it most likely was not approved by the Planning Agency.