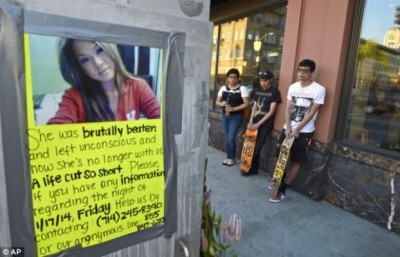 The Santa Ana Police Department is going to hold a press conference this Friday, January 24, 2014, at 1 pm, at the Community Room at their headquarters, regarding their investigation into the brutal murder of Annie Hung Kim Pham, by bar patrons, last Friday night, while she waited to get into The Crosby, a hipster bar/restaurant in Downtown Santa Ana.
A defense lawyer hired by one of the murderers is now blaming Pham for the attack saying that the Chapman graduate, who was a writer and who worked with several charities, threw the first punch.  She was a petite young lady and we're supposed to believe she attacked her killers?
For some reason the SAPD is referring to Pham's murder as an "altercation." Are you kidding?  Pham was literally kicked to death.  How is that an "altercation"  According to Dictionary.com, altercation means "a heated or angry dispute; noisy argument or controversy."  What happened to Pham was no altercation. It was a lynching!
In related news, Santa Ana Councilman Vince Sarmiento, a lawyer whose family makes a living running bars in the area, said at Tuesday's City Council meeting that the killing of Pham, by a group of Latinos, was not a hate crime.  How he reached that determination is as of yet unknown.
Pham is the second Asian to be murdered in Downtown Santa Ana in the past two years.  A Korean American resident of Irvine was shot to death in a DTSA parking structure after leaving the Proof Bar.