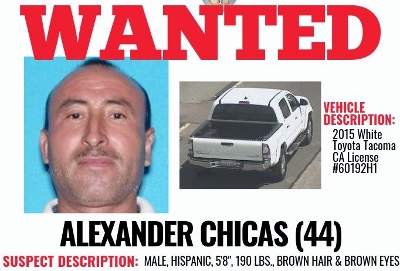 On Monday, September 2, 2019 at approximately 1:50 AM, wanted suspect Alexander Chicas, 44-years-old, entered his ex-girlfriend's residence via an open bedroom window. He told her he was going to kill her and then stabbed her in the face with a folding knife. The victim screamed for help, and her adult son ran to assist.
The suspect fled the scene in a white 2015 Toyota Tacoma, California license plate #60192H1.
Chicas rents a room somewhere in the area of Bristol Street and McFadden Avenue.
Chicas is a Male, Hispanic, 5'8″, 190 lbs., with Brown Hair & Brown Eyes.
Anyone with information regarding Chicas' whereabouts is asked to contact Detective Partida at (714) 245-8660 or APartida@santa-ana.org