Santa Ana PD Detectives are releasing video of the homicide that occurred on Friday, August 30, 2019, in the hopes of obtaining additional assistance from the community.
The suspect's vehicle was a newer red or maroon full size SUV.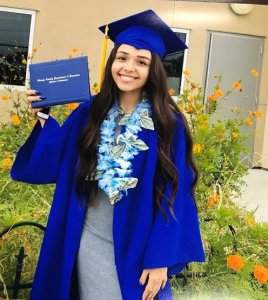 The homicide victim was Victoria Barrios, age 18.
Barrios was not a gang member and she was not the shooter's intended target, according to KTLA.
This case is eligible for the Santa Ana Police Department Homicide Reward Program. Detectives encourage anyone with information about this shooting to contact the SAPD Homicide Section at (714) 245-8390 or Orange County Crime Stoppers https://occrestoppers.org/
ORIGINAL MESSAGE:
Decedent: Pending Coroner Notification To The Family
On Friday, August 30, 2019, at 12:01 AM, SAPD Officers responded to reports of a shooting in the area of Pine Street and Hickory Street. Officers located a juvenile male down at 300 South Hickory Street suffering a gunshot wound to his upper torso. Officers also located an adult female with a gunshot wound to her upper torso down at 500 East Pine Street.
Orange County Fire Authority paramedics responded, treated, and transported the male to a local trauma center where he underwent emergency surgery. Paramedics declared the female deceased, on scene, at 12:12 AM.
The preliminary investigation revealed the shooting was gang-related. SAPD Homicide Section detectives responded to investigate.
This case is eligible for the Santa Ana Police Department Homicide Reward Program. Detectives encourage anyone with information about this shooting to contact the SAPD Homicide Section at (714) 245-8390 or Orange County Crime Stoppers https://occrimestoppers.org/