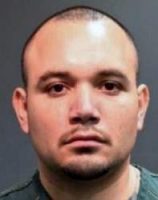 Hector Maldonado Ibarra, 29, was arrested on Tuesday morning on suspicion of being a serial shoplifter – repeatedly terrorizing retailers and their employees in at least eight Orange County cities for about a year by brandishing a replica gun and swiping high-end merchandise – to feed a heroin addiction, according to the O.C. Register.
SAPD police officers found and arrested Ibarra after they served a search warrant at his Santa Ana home, where they also found thousands of dollars worth of merchandise and drug paraphernalia, according to the SAPD. The stolen and recovered items included Gucci and Michael Kors handbags as well as children's clothing and perfumes.
The police also came across items used for injecting heroin, including a syringe and a bent spoon. They are alleging that Ibarra was stealing just about every day then selling the stolen goods so he could buy more heroin.
Ibarra has been committing felonies for years and he is suspected in at least 18 shoplifting cases since at least March of last year, according to the SAPD. He is expected to be arraigned today or tomorrow.
Ibarra is currently being held on suspicion of petty theft and assault with a deadly weapon. He was captured because of the latter charge.
The SAPD have been investigating at least five shoplifting cases since March of last year and now suspect that Ibarra is the main suspect in these cases.
In one of these cases Ibarra is suspected of brandishing a gun at a Marshalls department store on First Street in Santa Ana and then fleeing with stolen goods. At the time the SAPD only had a partial suspect profile.
Ibarra is also suspected of using his own kids to help him shoplift.
The SAPD got a break in the case when they spoke with the security guards at Marshalls who work in loss prevention. They told the SAPD police investigator that they thought Ibarra might be involved in shoplifting at several Marshalls and T.J. Maxx department stores. That information helped to tie all the cases together.
The SAPD then set up a task force to review all of the crimes but even with surveillance video on hand they were not able to identify Ibarra. Somehow he was not getting caught even after going back to the same stores.
However at one point a store in Costa Mesa was able to find out Ibarra's name and they gave that information to the SAPD investigator. But he was then stymied because Ibarra used a lot of fake names and addresses.
Ibarra finally screwed up when he pulled a gun and struck an apartment complex manager. Ibarra had pulled into the apartment complex to buy food from a nearby food truck and he was mad because the apartment manager was using a leaf blower in the parking lot at the time. The manage rightfully told Ibarra he had no business being at the apartment complex. Ibarra responded by becoming violent with him. His blow struck the apartment manager's cheek bone.
The SAPD police investigators were then able to track Ibarra down on Tuesday, for that incident, when they served the search warrant on his home. The apartment manager identified Ibarra from a lineup.
The SAPD investigators believe that more cases will surface as their investigation continues. And it turns out that Ibarra was also out on bail on charges of a separate theft and an assault on his girlfriend's son. His sordid criminal history includes charges of petty, grand and vehicle thefts and second-degree burglary, according to the SAPD.
For now Ibarra is being held at the Orange County Jail. This time he is unlikely to make his bail as it is set at $300,000.
There is no telling how many other crimes Ibarra has committed.