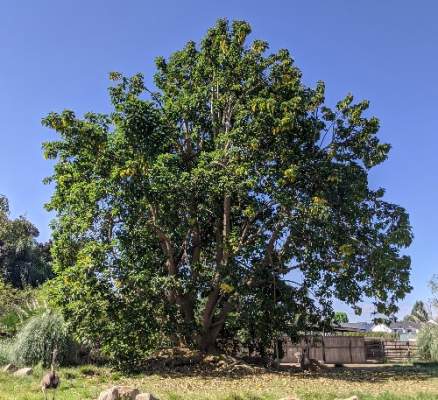 SANTA ANA, CA – The Santa Ana Zoo at Prentice Park's collection of over 500 trees has been recognized as an accredited arboretum.

The ArbNet Arboretum Accreditation Program awarded the Zoo a Level 1 Accreditation in March for achieving particular standards of professional practices deemed important for arboreta and botanic gardens. An arboretum is like a botanical garden devoted to planting trees and shrubs for educational and scientific purposes.

"The Santa Ana Zoo is an important educational, recreational and conservation resource for the residents of Santa Ana and the greater region," Santa Ana Mayor Miguel A. Pulido said. "The recognition of the Zoo's significant botanical collection compliments the animals living in its care, and I congratulate our Zoo staff on this achievement."

The ArbNet Arboretum Accreditation Program is the only global initiative to officially recognize arboreta at various levels of development, capacity and professionalism. The Zoo's accreditation is listed in the Morton Register of Arboreta, a database of the world's arboreta and gardens dedicated to woody plants maintained by the Morton Arboretum in Illinois.

Just as the animals living at the Santa Ana Zoo come from varied environments and habitats, so too do the trees that comprise the Zoo's urban forest. It is made up of more than 100 species of trees, including an Argentinean Ombú tree, African fever tree and massive Moreton Bay Fig, which can reach over 150 feet in diameter. Signage throughout the Zoo highlights such notable specimens, and a visitor's botanical guide is available for interested guests.

The Zoo is currently closed to the public due to the COVID-19 pandemic.

About Santa Ana Zoo

The Santa Ana Zoo at Prentice Park's mission is to empower the community to save wildlife and wild spaces through fun, adventure, and learning. The Zoo is owned and operated by the City of Santa Ana, and receives additional support from Friends of Santa Ana Zoo, a private 501(c)3 non-profit entity. The Zoo opened in 1952 on land donated to the City of Santa Ana by Joseph Prentice on the conditions that it must always be a city park named Prentice Park, and that the city must maintain a zoo with ample accommodations for at least 50 monkeys.

About ArbNet

ArbNet is an interactive, collaborative, international community of arboreta. ArbNet facilitates the sharing of knowledge, experience, and other resources to help arboreta meet their institutional goals and works to raise professional standards through the ArbNet Arboretum Accreditation Program. The accreditation program, sponsored and coordinated by The Morton Arboretum in Lisle, Illinois in cooperation with American Public Gardens Association and Botanic Gardens Conservation International, is the only global initiative to officially recognize arboreta based on a set of professional standards. The program offers four levels of accreditation, recognizing arboreta of various degrees of development, capacity and professionalism. Standards include planning, governance, public access, programming and tree science, planting and conservation. More information is available at www.arbnet.org.