The Santa Ana Literary Association will be presenting a new poem by a local poet every week this year. This week's poem is "Mayan Dawn" by Charlene A. Derby.
Mayan Dawn
By Charlene A. Derby
There's a commercial about a guy who chugs cheap chemicals
From a tiny colored canister and claims he'll be energized
For the next five hours.
He grins zombie-eyed at the camera
And says, "Let's do this."
He leaves for work alone.
There's a life about a gal who cups her hands
Around her espresso drink, inhaling its rainforest bouquet
While Ix-Chel's spindle sets her day in motion.
She thanks the Barista, greets her friends on the patio,
And drives to work wrapped in a Mayan dawn.
She feels sorry for Commercial Guy whose energy comes from a can,
Whose soul is too stingy to start the day with friends,
Whose lifestyle is too impatient to wish a neighbor good morning.
She wants to tell him not to sacrifice his heart
On the altar of convenience.
But she can't break through into his non-life,
And, alas, he can't cross over into hers.
© Charlene A. Derby. All rights reserved.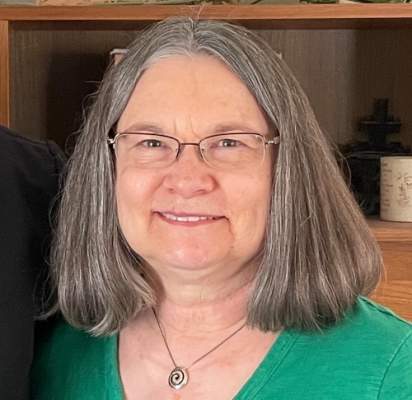 Charlene Derby has been a resident of Santa Ana since 1986. She became a published poet while in high school and has continued to write throughout her lifetime. She has been published in several anthologies and has won a bronze medal (2002) and a silver medal (2003) in the International Open Amateur Poetry Contest sponsored by Poetry.com. Recently, three of her poems have been set to music and have been performed by the National Association of Composers USA, L.A. Chapter (2018) and the Bowers/Fader New Music Duo of New York (2020 and 2021).