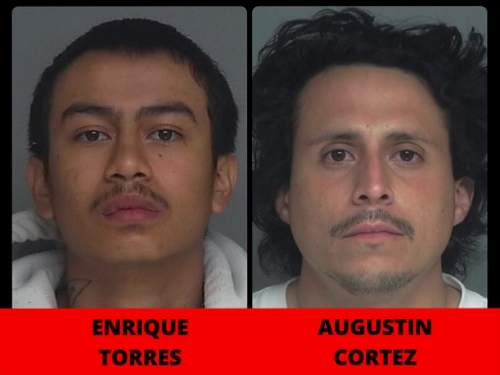 On January 17, 2021 at approximately 3:48 AM, Garden Grove Police Department officers responded to the Hyatt Regency Hotel, located at 11999 Harbor Blvd., regarding a gunshot victim. Upon arrival, they located Eddie Barajas (28-years-old of Stanton), with a single gunshot wound to the head.
All subjects involved in the incident had fled the scene, prior to officers' arrival. The victim was transported to a local hospital, where he succumbed to his injuries.
After hours of investigation, police detectives were able to locate witnesses who assisted with identifying the suspects as Los Angeles gang members.
On May 18, 2021 at 5:00 AM, a multi-location search warrant was executed in Los Angeles County that led to the arrest of suspects Enrique Torres (19-years-old of Los Angeles) and Agustin Cortez (31-years-old of Hawthorne) for PC 187(a), homicide with Gang Enhancements.
Several Garden Grove Police Department internal units including the K9Unit, SIU, GSU, CIU and SWAT and a number of outside agencies including the El Segundo Police Department SWAT, Hawthorne Police SWAT, North County SWAT, Orange County Sheriff's Department, Santa Ana Police Department, Orange County District Attorney and the Long Beach Police Department Gangs Unit assisted and made the search warrant successful.