The Santa Ana Literary Association will be presenting a new poem by a local poet every week this year. This week's poem is "El Ojo al Otro Lado" ("The Eye on the Other Side) by Masiel M. Corona Santos.
THE EYE ON THE OTHER SIDE
By: Masiel M. Corona Santos
Sort out,
break free in ambushed beats,
consecrate life to a luminous owl,
to an unforeseen spark of feathers,
to a burning bush.
Jump
without
hitting
bottom,
assume oneself as time,
succumb to obsessions
broken wheels,
discontinuous.
Decipher,
break away,
attend without taking the eyes off habit.
Being born twice takes us away from the dream,
dilute into a constant f l o w,
until the flesh turns into salt.
Disappear into the light,
pursuit,
a secret in the ear,
a breath in motion,
a hidden and deafening beat.
EL OJO AL OTRO LADO
By: Masiel M. Corona Santos
Resolver,
liberarse en pulsaciones emboscadas,
consagrar la vida a un búho luminoso,
a un centelleo imprevisto de plumas,
a una zarza ardiente.
Saltar
sin
tocar
fondo,
asumirse tiempo,
sucumbir a obsesiones,
ruedas descompuestas,
discontinuas.
Descifrar,
separarse,
atender sin quitar los ojos del hábito.
Nacer dos veces nos aleja del sueño,
diluirse en un f l u i r constante,
hasta que la carne se nos torne en sal.
Desaparecer en la luz,
búsqueda,
secreto al oído,
un respiro en movimiento,
ritmo oculto y ensordecedor.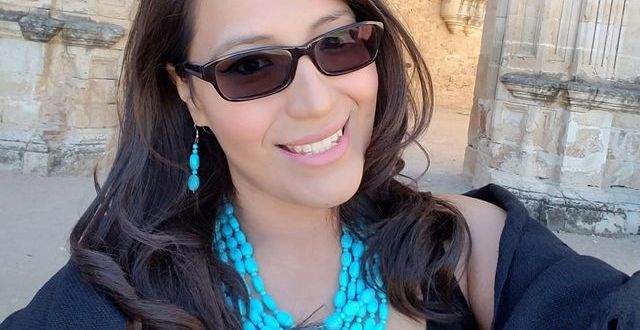 Masiel M. Corona Santos is a bilingual poet and community leader. M.A. in Hispanic Literature, and Linguistics (CSUSB) B.A. Spanish Literature and Culture, minor in Chicano/Latino Studies (UCI). She recently published Cantos Revolucionarios, (Letras Huastecas, N.L. México). She is the founder of Revista Raíces. Her work appears in digital, print journals, and various anthologies. She collaborates with Los Angeles Poet Society and Centro Cultural de México where she promotes literature. She has led poetry workshops in the Santa Ana community, and Comachuén, Michoacán México. She also co-led a poetry workshop through Círculo de Poetas and Writers.