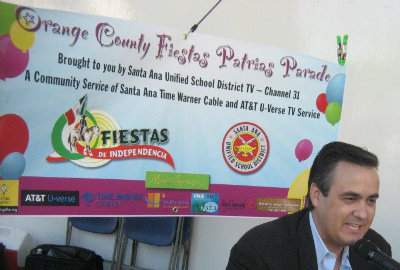 The Santa Ana Fiestas Patrias Parade is set for today, Sunday, Sep. 14, 2014, at 4 pm.  It is being televised by the Santa Ana Unified School District's TV channel 31, which is available on Time Warner Cable and AT&T U-verse.
Why would the parade be televised?  Simple.  Elected officials are allowed to ride in this parade.  Their political opponents are not.  The SAUSD is televising the parade in order to promote SAUSD Trustee John Palacio, who is running for reelection.  I will be surprised if his fellow SAUSD candidate and ally, Valery Amezcua, is not in the car with him.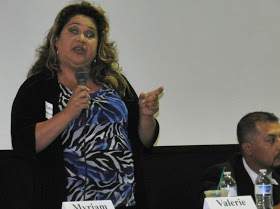 Valerie Amezcua
The Fiestas Patrias parade begins at 15th and Main streets and proceeds south on Main before turning onto Civic Center Drive toward Santa Ana Stadium. It features about 120 entries. The theme is "El Orgullo Que Nos Une" – "The Pride That Unites Us."
The festival continues Sunday from noon to 9 p.m., with the carnival open until 10 p.m. Mexican Consul Alejandra Garcia Williams led the El Grito ceremony last night.
The Fiestas Patrias is a celebration of both Mexican and Latin American independence.  As we reported in earlier posts the event includes a downtown festival where elected officials are allowed to set up booths but they're political opponents are excluded as are ballot measure campaigns.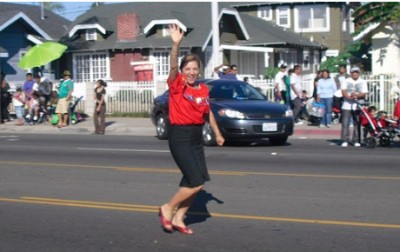 Miguel Hidalgo y Costilla, a Mexican priest and member of a group of educated Criollos in Querétaro, hosted secret gatherings in his home to discuss whether it was better to obey or to revolt against a tyrannical government, which is what he considered the Spanish government in Mexico to be. These meetings came to include famed military leader Ignacio Allende. On the morning of 16 September 1810, Hidalgo called upon the remaining locals who happened to be in the market on that day, and again, from the pulpit, he announced his intention to strike for independence and exhorted the people of Dolores to join him. Most did: Hidalgo had a mob of some 600 men within minutes. This became known as the "Cry of Dolores" as the people shouted, or "cried", from the church "Independencia!"
Hidalgo's approval of the violent sacking and looting by his forces alienated the group most vital to any independence movement: middle-class and wealthy creoles like himself. Poor peasants and Indians only had the power to burn, pillage and destroy: they could not create a new identity for Mexico, one that would allow Mexicans to psychologically break from Spain and craft a national conscience for themselves.
Still, Hidalgo became a great leader…after his death. His timely martyrdom allowed others to pick up the fallen banner of freedom and independence. His influence on later fighters such as José María Morelos, Guadalupe Victoria and others is considerable. Today, Hidalgo's remains lie in a Mexico City monument known as "the Angel of Independence" along with other Revolutionary heroes.
(Source – Wikipedia)