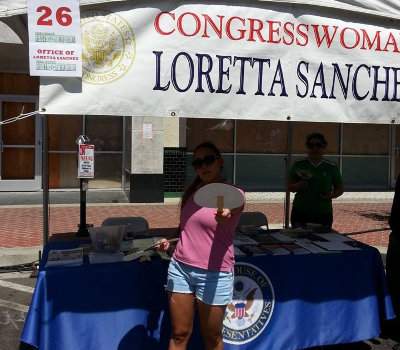 The City of Santa Ana says U.S. Rep. Sanchez "isn't political"
Santa Ana Parks and Recreation Agency Director Gerardo Mouet called me today to assure me that all is on the up and up over at the Fiestas Patrias event that is taking place this weekend in Downtown Santa Ana.
Mouet explained that it is okay to let local elected officials participate in the Fiestas Patrias because, well, they're elected.  But it is not okay for other candidates and campaigns to have booths at the Fiestas Patrias or participate in the parade on Sunday because, well, they're not elected.
Huh?  Did I miss something? Does becoming an elected official automatically bestow extra Constitutional powers to our incumbent politicians?  Because that is what Mouet is saying.  Free speech is apparently available in Santa Ana but only if you were fortunate enough to win an election.  Free speech is not extended to anyone else!  Is this what we expected from our all-Democrat Santa Ana City Council?  Does this mean the "Santa Ana Spring" is dead?
That hypocritical approach was abundantly present in Downtown Santa Ana today as friends of mine reported that U.S. Representative Loretta Sanchez was there, and her staff was at a booth.  Mouet specifically mentioned her by name today.  So she can have free speech because she is an elected official but the Measure CC campaign, as we reported yesterday, was told they could not have a booth because, well, that is political.  But Sanchez somehow isn't political?  What???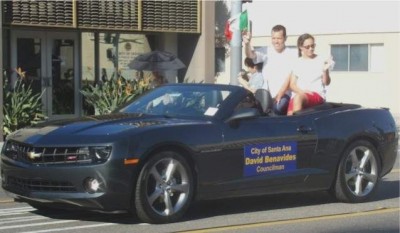 Councilman David Benavides in the Fiestas Patrias Parade?  The City of Santa Ana says that's not political!
Tomorrow Sanchez and other elected officials will be walking and driving through the Fiestas Patrias parade, which starts at 4 pm.  But no other challengers or ballot measures will be allowed to participate, for no good reason!  Just because that is how Mouet and company roll.
This is all completely unconstitutional!  I hope the ACLU sues the City of Santa Ana.  They have done so before and won.  Time for another lawsuit!
You should know by the way that the Fiestas Patrias is all about celebrating Mexican independence.  How ironic that our city leaders are using this opportunity to squelch freedom in Santa Ana.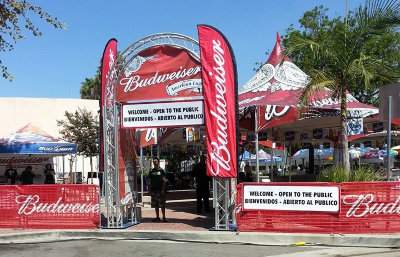 It is by the way laughable that the City of Santa Ana is providing a beer garden at the Fiestas Patrias.  Don't they know that alcohol consumption leads to DUIs and to domestic violence?  You cannot say that about marijuana!  But informing the voters about Measure CC?  No!  Not in Santa Ana.  That's political.
Well folks we live in a city that is starving for information about the candidates and measures on the ballot in November.  Unfortunately our city administration doesn't extend free speech courtesies to anyone that hasn't already won an election.  And that is just not right.
Here is the contact info for our City Council, in case you would like to give them a piece of your mind: