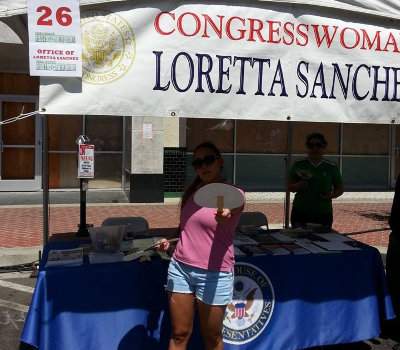 The City of Santa Ana says U.S. Rep. Sanchez "isn't political"
Santa Ana Parks and Recreation Agency Director Gerardo Mouet called me today to assure me that all is on the up and up over at the Fiestas Patrias event that is taking place this weekend in Downtown Santa Ana.
Mouet explained that it is okay to let local elected officials participate in the Fiestas Patrias because, well, they're elected.  But it is not okay for other candidates and campaigns to have booths at the Fiestas Patrias or participate in the parade on Sunday because, well, they're not elected.
Huh?  Did I miss something? Does becoming an elected official automatically bestow extra Constitutional powers to our incumbent politicians?  Because that is what Mouet is saying.  Free speech is apparently available in Santa Ana but only if you were fortunate enough to win an election.  Free speech is not extended to anyone else!  Is this what we expected from our all-Democrat Santa Ana City Council?  Does this mean the "Santa Ana Spring" is dead? Continue reading→