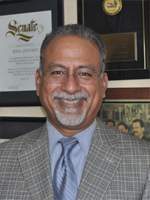 This week's Santa Ana City Council meeting agenda includes item 25H – Approval of the Agreement to hire Raul Godinez as our City's new City Manager, as we wrote about earlier in the week. You can read the staff report regarding Godinez here.
The Santa Ana City Council majority, comprised of Council Members Michele Martinez, Vince Sarmiento, Sal Tinajero and David Benavides, is going to vote to pay Godinez a package worth over $500K a year.
This is of course completely insane. Godinez is simply not qualified to be our City Manager! He worked for the City of Santa Ana for perhaps two years, as a Public Works Director, then quit to go to the City of El Monte, where he resigned within two years after he screwed up by hiring a racist white supremacist to be their Chief of Police.
Godinez now works as the Director of Public Works in the tiny East L.A. city of Lynwood, where his total pay package is just over $174K a year, according to Transparent California.
Why would the Santa Ana City Council majority hire a sub-par City Manager who washed out in El Monte and performed poorly when he originally worked at the Santa Ana Public Works Department?
Godinez has shown an inconsistent work ethic as he has been a carpetbagger moving from one city to the next in fairly short order.
Godinez has NO experience running a city of the size and scope of Santa Ana! And to our knowledge he has NO economic development experience.
The pay package being offered to Godinez is beyond ridiculous! Not only is it too much money – it also contains a golden parachute that will make it extremely difficult – and expensive – to fire him down the road.
We heard from a corporate head hunter that Godinez has been desperately applying for city manager jobs all over the State of California – and not one city has had him on their short list! Why then is the Santa Ana City Council majority in such a rush to not only hire this guy but overpay him too?
Why would the Santa Ana City Council majority consider hiring a new City Manager form a tiny second tier city that  has been plagued with corruption and mismanagement for the past three decades?
I must surmise that our Santa Ana City Council majority is simply racist – they refuse to consider any new City Manager candidates who are not male Hispanics – even though the last guy they hired who fit that bill, David Cavazos, turned out to be a total train wreck!
Santa Ana is a large city with many challenges. We deserve a capable and experienced city manager who knows what he is doing! That most certainly is not Raul Godinez.
We are running out of time to stop this idiocy! Click here to email the Santa Ana City Council.
You can also click here to sign on to an online petition against the hiring and overpaying of Godinez.