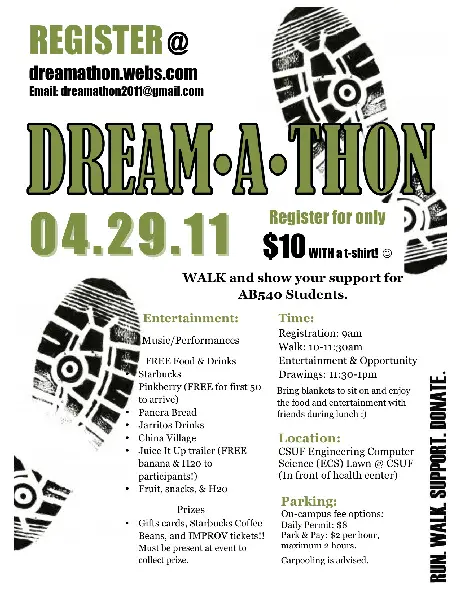 Support the Orange County Dream Team at their Dream-a-Thon 2011:
Time: Friday, April 29 · 9:00am – 2:00pm
Location: California State University, Fullerton
800 N. State College Blvd.
Fullerton, CA
Register online at: http://dreamathon.webs.com/
What is it?!
The DREAM-A-THON is the first walk-a-thon event in support of AB540 students. ALL registration money/donations collected will go to event expenses (ex. give-a-ways, food, t-shirts, entertainment, etc.) and the CSUF AB540 Book Scholarship.
But wait…who are AB540 students?!
Undocumented students who are allowed to pay in-state tuition fees at higher education institutions, but do not qualify for financial aid. These students struggle paying for and receiving a college degree due to a lack of monetary funds. Without a social security number, many are unable to find a quality job to pay for college, let alone acquire one post-grad.
For more information: http://istillhaveadream.org/
How does the DREAM-A-THON work?!
The event is a walk-a-thon, with a twist. This walk is not based on the amount of laps committed by the walker or the distance they walk, it is simply based on the presence of each individual at the event and their dedication/support to help AB540 students receive a quality education.
All registered participants will receive pledge forms to distribute to family/friends for flat-rate donations in support of the walker and this cause. For every $10 donated, an additional ticket for opportunity drawings will be provided for the participant.
So, when, where, and how much is it?!
Date: Friday, April 29, 2011
Time: Registration-9am; Walk-10am-2pm
Location: CSUF Engineering and Computer Science (ECS) Lawn, in front of the Student Health Center
Pre-Registration: $10 (including a t-shirt)
How do I register?!
http://dreamathon.webs.com/ under "Event Registration" tab!
Please, spread the word to your friends and family, this event is open to everyone interested in making a difference in the lives of CSUF AB540 students!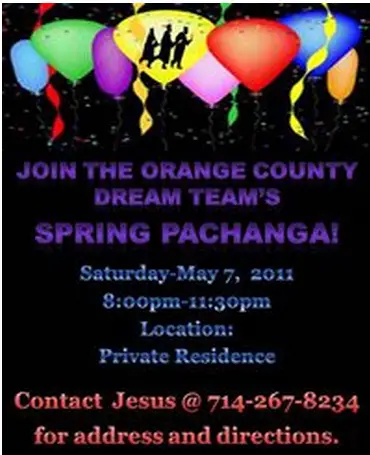 And be sure to attend the Orange County Dream Team's Spring Pachanga:
Time: Saturday, May 7 · 8:00pm – 11:30pm
Location: Anaheim California
Come join OCDT and all the DREAMERS in the OC for a Spring Panchaga fundraiser.
$5 Donation (Entrance: 1 drink + a snack)
Help the Orange County DREAM Team raise money for Scholarships.
There will be music, dringks and beautiful energy from our OC community!!!!!
Contact: Jesus for address and directions @ 714-267-8234
P.S. THIS IS IS A FUNDRAISER DONATIONS ARE APPRECIATED.