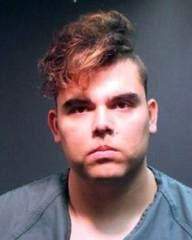 Case # 18CF2879
Date: October 11, 2018
LAW ENFORCEMENT SEEKING POTENTIAL ADDITIONAL VICTIMS OF AFTER SCHOOL INSTRUCTIONAL PROVIDER CHARGED WITH SEXUALLY ASSAULTING THREE GIRLS
SANTA ANA, Calif. – Law enforcement is seeking potential additional victims of an after school instructional provider charged with sexually assaulting three girls.
Defendant: Eddy Bustamante Infante, 23, Santa Ana
Charged today with the following felony counts:
(4) Lewd acts upon a child under 14 years of age
Sexual assault of a child 10 years old or younger
Sentencing Enhancement
Multiple victims
Maximum Sentence: 75 years in state prison
Pre-trial hearing on Oct. 19, 2018, 8:30 a.m. at Department C-55, Central Justice Center, Santa Ana
Circumstances of the Case
At the time of the crimes, Infante was employed at schools in Santa Ana as an after school instructional provider in a position of trust with access to children.
Between August 2015 and June 2017, Infante is accused of sexually assaulting 9-year-old Jane Doe 3 during the after school program.
Between August 2016 and June 2017, the defendant is accused of sexually assaulting 10-year-old Jane Doe 1 and 8-year-old Jane Doe 2, who were also students in Infante's care.
On Oct. 4, 2018, Jane Doe 1 reported the crime and the Santa Ana Police Department (SAPD) investigated this case.
SAPD initially arrested Infante on Oct. 5, 2018, and he was released from custody after posting bail.
SAPD rearrested the defendant on Oct. 10, 2018, after Jane Doe 3 reported the assault following media coverage seeking potential additional victims.
Law enforcement believes there may be additional victims and asks anyone with information to contact SAPD Detective Jessica Guidry at 714-245-8530, or Orange County District Attorney's Office Supervising Investigator Eric Wiseman at 714-347-8794.
Prosecutor: Senior Deputy District Attorney Lexie Elliott, Sexual Assault Unit.