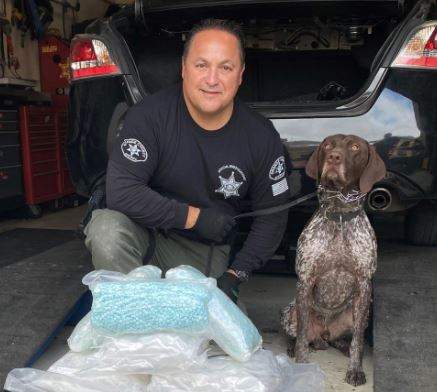 A large amount of narcotics recently being smuggled into Southern California was intercepted and confiscated by the OC Sheriff's Highway Interdiction Team (HIT).
Over two days, the team initiated traffic stops that resulted in pulling 81.4 pounds of methamphetamine and 115,400 fentanyl pills off the street.
HIT deputies first stopped a vehicle heading northbound on the 5 freeway on Sept. 28. Narcotics detection K-9, Remington, alerted on the vehicle and deputies found 81.4 pounds of methamphetamine and 105,000 fentanyl pills hidden in the floorboards.
The following day, on Sept. 29, deputies stopped another vehicle traveling northbound on the 5 freeway and narcotics detection K-9, JC, alerted to the presence of drugs in the vehicle. Deputies found and confiscated 10,400 fentanyl pills on that stop.
The Highway Interdiction Team is responsible for patrolling the freeway thoroughfare and proactively identifying and interrupting drug trafficking activity.