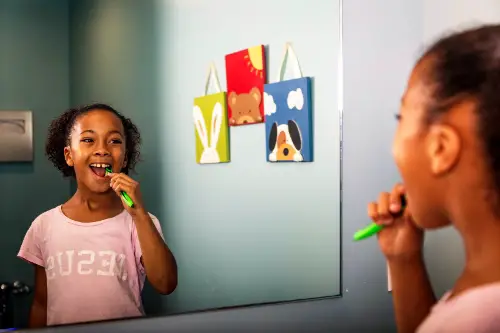 ORANGE COUNTY, Calif. (February 14, 2022) – The Orange County Rescue Mission is urgently seeking help from the local community to provide critically-needed hygiene items to the formerly homeless men, women, children and veterans residing across the Rescue Mission's multiple transitional living facilities in Orange County.
According to Jim Palmer, President of Orange County Rescue Mission, the organization is in dire need of basic hygiene items to provide to its 178 homeless individuals across multiple of its campuses including the Village of Hope, Tustin Veterans Outpost, and Double R Ranch.
"The health and comfort of our residents is one of our top priorities, and in order to ensure proper safety and wellness for all of our residents, we need to continuously meet the basic hygiene needs of the population residing at our transitional living facilities," says Palmer. "Now, more than ever, we rely on donations of personal hygiene items for our residents, so they have an adequate supply of basic necessities that most of us take for granted."
If you are in a position to donate and help the Rescue Mission provide basic hygiene products to its residents, below are some recommended items for the men, women and children currently living at the Rescue Mission's Facilities:
• Bars of soap
• Bottles of shampoo
• New underwear for children (all sizes)
• New underwear for women (all sizes)
• Tubes of toothpaste
• Razors
• Shaving cream
• Feminine hygiene products
• Laundry detergent
• Rolls of toilet paper
In addition to these items, Orange County Rescue Mission also has an urgent need for new twin-size sheet sets, new bath towels, and new bed pillows.
"We remain humbled and grateful for the community's continued support of Orange County Rescue Mission during these especially trying times," continues Palmer. "It is only through the compassion and generosity of our neighbors that we are able to provide for our residents as they are in the process of transforming their lives."
Donations may be dropped off at Orange County Rescue Mission's Village of Hope located at 1 Hope Drive, Tustin, California, 92782. Items can also be purchased online and delivered to the Village of Hope address. For more information, please visit https://www.rescuemission.org/hygiene-needs/.
The donation warehouse is open between 8:00 a.m. and 5:00 p.m., Monday through Sunday.
About Orange County Rescue Mission
Orange County Rescue Mission's goal is to minister the love of Jesus Christ to the Least, the Last, and the Lost of our community through the provision of assistance in the areas of guidance, counseling, education, job training, shelter, food, clothing, health care and independent living communities.
The Rescue Mission was formed as a faith-based organization in 1963. Since that time, the Rescue Mission has shared hope through Jesus Christ to those without hope in Orange County. Our programs are designed to give comprehensive services that move homeless men, women, veterans, and children to self-sufficiency. Its programs and dedication to going above and beyond have earned the organization numerous recognitions including Charity Navigator's highest rating of 4 stars.
To make a donation or inquire about volunteer opportunities with Orange County Rescue Mission, please contact (714) 247-4300 or visit www.rescuemission.org.