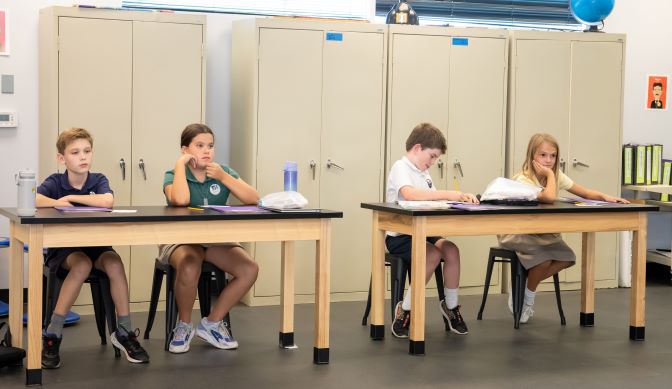 Santa Ana, California (Feb. 21, 2023) — The Prentice School in Orange County, California, recently used a grant from Burns & McDonnell to remodel its science lab to help further develop students' interest in STEM. The $5,000 donation was part of its STEM Grants Program awarded in 2022.
The funds for the lab are from the Burns & McDonnell STEM Grants Program. The program is designed to partner with schools to inspire the next generation of STEM leaders in communities across the country where its employee-owners live and work. In 2022, Burns & McDonnell gave more than $1.2M in STEM grants.
"Burns & McDonnell employees rely on STEM skills every day and we are committed to helping equip students, teachers and parents with the tools to inspire the future STEM workforce," says Rashmi Menon, vice president and general manager for Burns & McDonnell in California. "As a mother myself, I I'm honored to lead an organization who is committed to investing in the next generation."
The Prentice School leveraged the funding from Burns & McDonnell to transform its classroom into a science lab. The lab features six science tables, six circuit boards, and 12 individual student microscopes.
"It has been amazing to give students more individual hands-on STEM experiences," says Devon Green, teacher at The Prentice School. "Instead of students looking at one slide and learning together, each student is now able to engage and learn in a whole new way. They can not only learn how to properly handle the microscope to view a slide, but they are also able to explore the wonders of nature from a blade of grass to the wing of an insect at their own pace.
Additionally, the circuit boards have been a wonderful tool for our elementary science teacher to utilize to help our kids understand general electricity and the flow of electrons through a medium."
The demand for STEM jobs is growing rapidly as technical industries face workforce shortages that will only become more crucial in the near future. The U.S. Bureau of Labor Statistics projects a need for about 25,000 new civil engineers each year throughout this decade.
About the Prentice School
The Prentice School in Orange County is located at 18341 Lassen Drive, North Tustin, CA. By utilizing a multi-sensory teaching approach as their core instructional methodology they are able to teach students in the way they learn. Their program strategies are applied in small groups, whole class, and school-wide learning. This helps students generalize their skills across classrooms and attain social skills. Because it's not limited to a specific curriculum, these techniques can serve an individual for a lifetime.
About Burns & McDonnell
Burns & McDonnell is a family of companies bringing together an unmatched team of more than 13,500 engineers, construction and craft professionals, architects, planners, technologists, and scientists to design and build our critical infrastructure. With an integrated construction and design mindset, we offer full-service capabilities. Founded in 1898 and working from 70 offices globally, Burns & McDonnell is 100% employee-owned. Learn how we are designed to build.