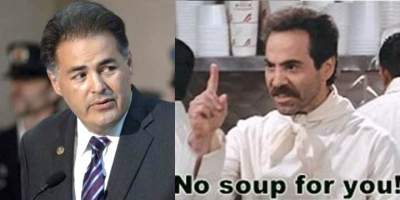 Santa Ana residents got a late Christmas present today as our overpaid and oversexed City Manager, David Cavazos, was placed on paid administrative leave after a 4-0 City Council vote Wednesday afternoon, according to the O.C. Register.
As one might expect Cavazos' allies on the City Council – Sal Tinajero, David Benavides and Vince Sarmiento, complained about this because they were not at today's special meeting. Apparently they are all on vacation. Oh well! Even if they were here they could not have stopped this as Mayor Miguel Pulido had four votes on his side.
The fourth vote was Councilwoman Michele Martinez, who is the only woman on our City Council. Cavazos falsely accused her of sexual harassment so it should be no surprise that she voted to place him on leave.
Tinajero, Benavides and Sarmiento should be ashamed at themselves. How can they continue to support Cavazos after he got caught dating a city employee? While that may not be illegal it is in extremely bad taste.
I suppose Benavides is used to this bad behavior as his best friend on the City Council, Carlos Bustamante, went to jail for sexually harassing his fellow employees at the County of Orange. Benavides himself dumped his wife during his ill-fated run for Mayor then appointed his subsequent girlfriend to a City Commission.
Sarmiento, a lawyer whose family owns and operates a bunch of shady nightclubs, may also have no issue with Cavazos' behavior. I wonder how his wife, who is also a lawyer, feels about that?
As for Tinajero he has been rampaging of late about the undue influence of the Santa Ana police union, but in the past they have spent vast sums of money reelecting him. Perhaps he should give back all those campaign contributions?
Pulido will need one more vote on the Council to fire Cavazos. Sarmiento should be that vote – as Pulido endorsed his reelection last year. And if he won't play ball then the new City Council majority can remove Sarmiento and his allies from all of their commission posts, such as the OC Water District and the OC Sanitation District. That will hit them in their collective wallets!
Once Cavazos has been fired the new City Manager can fire our inept and inexperienced Police Chief, Carlos Rojas.
It is great to have the adults running our City Council again!