Irvine, Calif. (March 22, 2021) – The Irvine Police Department (IPD) is seeking assistance from the public to identify the suspect who assaulted an elderly male.
On Friday, March 19, 2021, at 7:00 p.m., a 69-year-old male was walking his dog at Sierra Vista Middle School in the City of Irvine. The victim observed a larger black and white dog, described as a Husky breed, which was off-leash and appeared to be connected to a young male that was jogging and kicking a soccer ball in the area. The larger dog approached the victim aggressively and the victim picked up his own dog to avoid conflict.
Minutes later, the larger dog approached again and the victim lost control of his dog's leash. The two dogs began fighting and the victim rushed to separate them. While attempting to defend his dog, the victim was struck in the head from behind by the male that was seen jogging.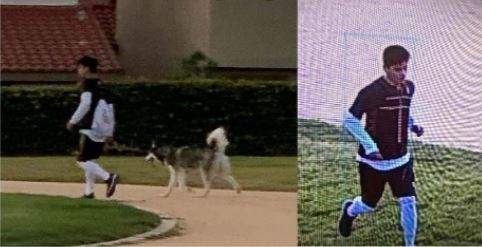 The suspect left the area with the dog and the victim was ultimately taken to the hospital for treatment. IPD was notified that day and the investigation commenced.
The victim was able to take a photo of the suspect as he left the area with the other dog. Detectives have also recovered surveillance video from the area. The suspect is described as a male in his late teens with a darker complexion. He was last seen wearing a dark t-shirt over a white long sleeve shirt, dark shorts over white leggings or shin guards, black athletic shoes, and carrying a white backpack. The suspect may also be associated with a white sedan or coupe style vehicle.
Although the motive in this case is unclear, IPD has not ruled out the possibility that this could be a hate crime.
Anyone with information is asked to contact Detective Gavin Hudson at 949-724-7168 or GHudson@cityofirvine.org.