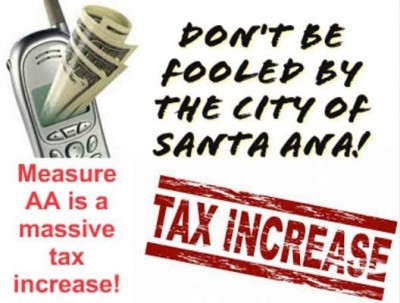 City administrators don't lie all the time – they are sneaky and will lure you with half-truths and then lie to seal the deal. That is what the City of Santa Ana did this week when they issued a community advisory about their Utility Users Tax, which appears on our November ballot as Measure AA.
They started with the truth – The Utility Users Tax (known as the "UUT") is a tax the City first adopted in 1975 on the usage of certain utility services (including electricity, gas, water, & telephone) within the City of Santa Ana. It is a general tax & used for general City services, such as police, fire, parks, library, planning and business inspection services & general administrative services. 
Then came the half-truth – "The California Constitution (Proposition 218) requires an election to approve any change in local taxes. A rate decrease from the current 6% rate to a reduced 5.5% is being proposed. Pending legislation may inhibit local voters' rights to maintain their ability to vote for a tax. The ballot measure would protect the City's 3rd highest revenue source from future threats & preserve the City's ability to deliver city services."
Then they flat out lied – "Why is the City Council considering amendments to the City's UUT Ordinance? Answer: The City Council desires to lower the rate from 6% to 5.5% because a review of UUT revealed the statewide average to be 5.5%. Also, the City's UUT Ordinance contains terminology that is not current with modern technology. New technologies such as Broadband, prepaid wireless, text messaging, etc. are not clearly addressed in the current UUT ordinance. The City is proposing updates to modernize the UUT & reduce the rate. "
Here is the deal – the Santa Ana City Council vastly overpaid new City Manager David Cavazos.  But they hired him for a reason.  He is very clever about raising taxes – this is what he did in the City of Phoenix and now he is trying to do it again here in Santa Ana.
Check out the tax increase Cavazos forced through in Phoenix:
The city of Phoenix, Arizona passed a 2010 measure taxing groceries (food tax). This new 2 percent tax expires in 2015 but highlights political corruption and public employee union greed. Phoenix City Manager David Cavazos said without the new food sales tax, hundreds of police officers and firefighters would be fired. Requests for city records uncovered that the food sales tax revenue was spent on city salary increases, retention bonuses and performance pay increases for city employees. City Manager David Cavazos received a 33% pay increase hiking his base pay to $315,000 plus a generous $600/month car allowance and longevity bonus. A sweet deal for someone who claimed that without the food tax, he would be forced to lay off more than 1000 city workers.
Did you notice that the rationale Cavazos presented for the Phoenix Food Tax mirrors the City of Santa Ana's reason for raising the Utility User's Tax?
Whether or not we should even have a Utility Users Tax is a very good question – but trying to include communications technology as utilities is a real stretch.  The reality is that this ballot measure will allow the City of Santa Ana to increase our taxes by taxing cell phone and broadband services that they currently are not taxing.  They are dropping the tax on the actual utilities by 1.5% but that is a drop in the bucket compared to the whopping new 5.5% tax on Cell Phones, Broadband, Text Messaging, Prepaid Wireless, etc.
This terrible tax increase will apply to all Santa Ana families that make more than $23,000 a year – that means pretty much all of us.  Taxing utilities that even the working poor cannot do without is crazy but then adding a new tax on all communications?  That is just crazy!
But wait this gets even worse. This tax is going to charge local businesses up to $11,0000 per year!  You know what that means?  Many businesses will choose not to come here, others will choose to leave when their leases are up, and those that stay will have to cut back somewhere.  That usually means less jobs!  And don't forget that this tax is going to punish businesses that are using new technologies.  Why would any city want to do that?
The fact that our City Council voted to put this on the ballot tells you everything you need to know about our City Council incumbents.  This is yet another reason to vote against Tinajero, Benavides and Martinez this November.
Vote no on Measure AA!  Say no to higher taxes!