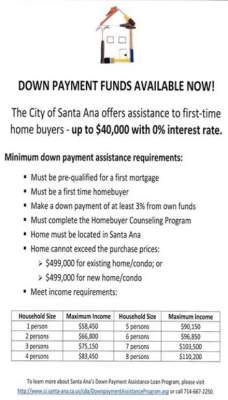 City of Santa Ana
Community: Down Payment Funds Available Now / Fondos De Pago Inicial Disponibles Ahora

The City of Santa Ana offers assistance to first-time home buyers – up to $40,000 with 0% interest rate.
The requirements for down payment assistance include the following:
Must be pre-qualified for a 1st mortgage
Must be a first time homebuyer
Make a down payment of at least 3% from own funds
Must complete the Homebuyer Counseling Program
Home must be located in Santa Ana
Home cannot exceed the following purchase prices:

(1) $499,000 for existing home/condo;
(2) $499,000 for new home/condo

Meet income requirements – see attached flyer for details
A homebuyer informational meeting will be held at the City of Santa Ana Council Chambers (22 Civic Center Plaza, Santa Ana, CA) on Tuesday, February 13, 2018, 6:00 p.m.
To learn more about Santa Ana's Down Payment Assistance Loan Program, please call (714)667-2250 or visit www.ci.santa-ana.ca.us/cda/DownpaymentAssistanceProgram.asp
+++++++++++++++++++++++++++++++++++++++++++++++++
La Ciudad de Santa Ana ofrece asistencia a personas interesadas en comprar vivienda por primera vez. Los que califiquen pueden obtener hasta $40,000 con 0% de interés.
Requisitos mínimos de asistencia de pago inicial:
• Debe estar pre-calificado para una primera hipoteca
• Debe ser un comprador de vivienda por primera vez
• Hacer pago inicial de por lo menos 3% de los fondos propios
• Debe completar el curso de asesoramiento para primeros compradores de vivienda
• La casa debe estar ubicada en Santa Ana
• El hogar no puede exceder estos precios de compra:
(1) $499,000 para casa/condominio existenete; o
(2) $499,000 para nueva casa/condominio
• Cumplir con los requisitos de ingresos – vea el gráfico adjunto de este mensaje
Una junta informativa para compradores de vivienda se llevará a cabo el martes, 13 de febrero 2018, a las 6:00 p.m.en la Ciudad de Santa Ana, Sala del Concejo (22 Civic Center Plaza, Santa Ana, CA).
Para obtener más información sobre el Programa de Préstamo de Asistencia para el Pago Inicial de Santa Ana, por favor llame a 714-667-2250 o visite: www.ci.santa-ana.ca.us/cda/DownpaymentAssistanceProgram.asp