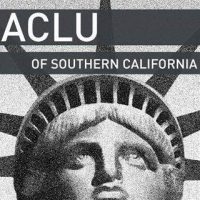 The ACLU requested a temporary restraining order Friday against county officials, demanding they remove the fences they erected this week around part of the homeless encampment along the Santa Ana River, according to the O.C. Register.
Earlier this week the O.C. Department of Public Works erected multiple six-foot, chainlink fences around the Santa Ana Riverbed between the Chapman and Orangewood bridges, entrapping nearly 100 individuals and their belongings, according to the ACLU.
The fencing comes just days after the county posted notices of eviction for "maintenance of the channel" and bars access in and out of the riverbed.
In its demand letter to O.C. counsel, the ACLU SoCal wrote:
"These actions violate basic notions of human dignity and fundamental constitutional rights, exposing the County to considerable liability. First, the County's actions constitute false imprisonment for depriving the individuals in the encampment of their freedom of movement, against their will, all day, by fencing them in without a viable means of leaving. Similarly, the County's actions also constitute an unconstitutional seizure of both the people themselves and their property. […] Finally, they are being denied their right to due process of law; they are being imprisoned and restrained without any judicial process whatsoever."
Advocates, who attempted to bring aid and monitor the riverbed on Wednesday, report that they were relegated to a so-called "free speech zone."
"Children, people with severe disabilities, the elderly and others are deprived of food, water and access to restrooms," said Eve Garrow, homelessness policy analyst and advocate with the ACLU SoCal. "The county should take action to rectify this egregious violation of basic human rights."