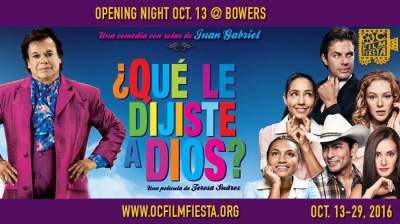 FOR IMMEDIATE RELEASE: October 11, 2016
Contact: Victor Payan, Director, e: victor@masamedia.org, ph: 619-701-0073
7th OC Film Fiesta Kicks Off Thursday, Oct. 13 with Juan Gabriel Tribute, Stars, Music and more
Festival line-up includes Guatemalan Oscar pick, Korean 80's retro, Bolivian spotlight, Ariel Award-winning documentary and Piñata Protest performance
Actor CARLOS YORVICK (Hasta que te conocí) and Mexican director TERESA SUAREZ (¿Qué le dijiste a Dios?) will be among the guests at 7th OC Film Fiesta Opening Night Celebration and Juan Gabriel Tribute this Thurs., Oct. 13 at the Bowers Museum in Santa Ana.
(Santa Ana, CA) The 7th OC Film Fiesta kicks off this Thurs., Oct. 13 at the Bowers Museum with stars, mariachis, a tribute to Mexican music legend Juan Gabriel, and a special partnership with the Bowers Museum's Thirsty Thursday happy hour that includes admission to the new Virgen de Guadalupe: Images in Colonial Mexico exhibit and a tequila and wine tasting.
This year's festival features a diverse selection of more than 25 films, including Guatemalan Oscar entry IXCANUL, Trisha Ziff's Ariel Award-winning documentary The Man Who Saw Too Much, Benson Lee's Korean 80's retro teen comedy Seoul Searching and a tribute to master Bolivian filmmaker JORGE SANJINÉS. The three-film tribute screens Saturday, Oct. 15 at Grand Central Art Center and includes rare screenings of the Sanjinés classics Ukamau (1967), Yawar Mallku (Blood of the Condor) (1969) and La nación clandestina (1989), which has been hailed as the most important film in Bolivian cinema.
The 2016 OC Film Fiesta takes place from Oct. 13-30, with screenings at venues throughout Santa Ana, including the Bowers Museum, Grand Central Art Center, SAHS Bill Medley Auditorium, Picture Show at Main Place and a free Oct. 28 screening of The Book of Life at the Heritage Museum of OC.
Thursday's opening night celebration will be a treat for Juan Gabriel fans, featuring a screening of ¿Que le dijiste a dios?, Mexico's Mama Mia-style musical sensation which celebrates the music of Juan Gabriel and features an unforgettable onscreen appearance by the late music legend. ¿Qué le dijiste a Dios? stars Erika de la Rosa (Eva La Trailera), Mark Tacher (Abismo de Pasión), Mar Contreras (High School Musical: El Desafío Mexicano) and recording star Victor Garcia.
The film's director, TERESA SUAREZ, and actor CARLOS YORVICK, star of the Juan Gabriel miniseries Hasta que te conocí will be in attendance at Thursday's screening, and there will be an after party at the romantic Green Parrot Inn, located across the street at the Bowers.
The 2016 OC Film Fiesta also includes two full Sundays of family-friendly films at the Santa Ana High School Bill Medley Auditorium in conjunction with SAUSD's new tuition-free SanArts Next Generation Arts Conservatory on October 16 and 23.
The SanArts Sundays screenings include the Mexican animated film El Americano: The Movie, Peabody-award winning filmmaker John J. Valadez's new documentary The Head of Joaquin Murrieta and Tadashi Nakamura's beautiful documentary Mele Murals, which follows Hawaiian street artists Astrea Prime as they conduct a youth mural project in rural Waimea. The SanArts Sundays screenings feature free parking and special $2 tickets for SAUSD students, families, teachers and staff.
Fans of silent cinema will not want to miss the Oct. 29 Female Icons of Silent Cinema block at the Bowers featuring Carl Dreyer's classic The Passion of Joan of Arc with live music by George Sarah, the 1917 Mexican film Tepeyac, and Bolivia's only surviving silent feature Wara Wara, which stars luminaries from Bolivia's 1920s Avant garde art community including master painter Arturo Borda, poet Guillermo Viscarra and renowned sculptor Marina Nuñez del Prado as a young Quechua princess.
For music fans, San Antonio conjunto-punk band Piñata Protest will perform a special Santa Ana show on Oct. 22 as part of the Film Fiesta.
2016 Festival Passes are available for $75 each or two for $140 at online at www.ocfilmfiesta.org and at screenings. Passes include admission to films, parties and discounts on special events and at local restaurants.
Admission to the Oct.13 Thirsty Thursday, which includes happy hour, access to the Virgen de Guadalupe Exhibit & the film screening is $30 General; $20 Bowers Members and $10 for Students, Santa Ana Residents and festival pass holders.
Individual tickets for the opening night screening are $10. Tickets for Thirsty Thursday and individual tickets are available at www.bowers.org or at the Bowers Museum, located at 2002 N. Main in Santa Ana.
Admission to the Noa Noa-themed afterparty at the Green Parrot Villa is included with the festival pass, and is also available for $10 at the door for non-pass holders. The Green Parrot Villa is located at 2035 N. Main St.
Tickets to festival screenings are $10 General and $5 Students / Military / Santa Ana residents, unless otherwise noted. SanArts Sunday screenings at Bill Medley Auditorium also offers special $2 tickets for SAUSD students, families, teachers and staff.
The OC Film Fiesta is produced by Media Arts Santa Ana (MASA), a project of Community Partners, a 501(c)(3) non-profit organization, and proceeds benefit MASA's free youth media programs, the OC Teen Cinema Camp and the Youth Murals and Media Class. Donations are tax deductible and can be made online at www.masamedia.org.
For more information festival passes, tickets, venue locations, special events and other information, visit www.ocfilmfiesta.org or www.masamedia.org or email victor@masamedia.org.
For media inquiries or press credentials, email victor@masamedia.org or call 619-701-0073.
Support for the OC Film Fiesta is provided by the California Arts Council, Mexican Consulate in OC, Filmoteca de la UNAM, Fundación Grupo Ukamau, Cinemateca Boliviana, Bowers Museum, City of Santa Ana, Main Place Mall, Picture Show, Grand Central Art Center, OC Hispanic Chamber of Commerce, SAUSD, SanArts The Next Generation Arts Conservatory, Arts OC, Stay Connected OC, Pocharte, OC Public Libraries, Cervantes Publishing Company / Miniondas Farandula USA, Para Todos Magazine, Beard Publishing, TheColorsOfCuba.com, OC Gente, United Artists of Santa Ana, Heritage Museum of OC, Ollin Consulting, LuiMier.com, Eddie Quillares State Farm Agency, Green Parrot Villa, The Robbins Nest Restaurant and Wine Bar, Beatnik Bandito, Casa Mexico Tequila, Monte Xanic Bodega Vinícola and Leona Enterprises. Schedule subject to change.