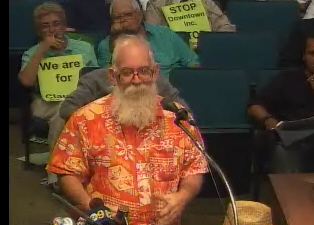 My heart is breaking today with the sad news that longtime Santa Ana neighborhood and community activist Rob Cook is terminally ill.  His wife Janet posted this information on the Santa Ana Citizens Yahoogroup this week and also indicated that he can no longer use his computer.
Rob and I didn't always see eye to eye but I always admired his moxie and his dedication to our community – in particular he had a very big heart and no one cared more for our homeless.  He loved to ride his bike all over town and he quite often participated in local civic events.  He had an open mind and I enjoyed working with him last year, for the last time, as we tried together to stop Santa Ana's bogus Measure G.
Rob isn't gone yet so we have a chance to let him know how much we have appreciated him as a person and his faithful service to all the resident of Santa Ana.  Click here to send him and Janet an email message.
Rob is a walking lexicon of Santa Ana history.  When he leaves us we will lose a wealth of knowledge that is simply irreplaceable.  More importantly we will lose a great man who always had a smile on his face and a kind word for anyone he might bump into.  God bless you Rob and your family!  I will cherish your memory forevermore.
Here is Janet's notice about Rob's illness:
Hello,

Just wanted to let you know my husband
Rob Cook is terminally ill.
He won't be able to get onto the computer anymore.

I know he enjoyed the Santa Ana Citizens group very much.

He sends his Best Wishes and Good Luck to All the Citizens
and to the Mayor and Council members.

Janet Cook