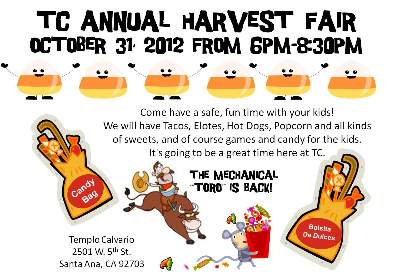 Templo Calvario Church is hosting a  Harvest Fair on Halloween, Oct. 31, starting at 6PM in their back parking lot.
There are going to be Tacos, Elotes, Hot Dogs, Popcorn and all kinds of sweets, and of course games and candy for your kids. And don't forget about the mechanical Bull coming back! It's going to be a great time at TC.
Templo Calvario is located at 2501 W. 5th St. in Santa Ana, near Fairview.  Click here to check out their Facebook page.