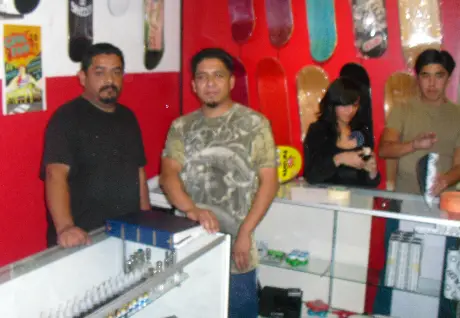 Did you know that you can get your body pierced, at the Santa Ana Artists Village, but you cannot get a tattoo?  Such is the state of the City of Santa Ana's planning ordinances.
I visited the Santora Building, this Saturday, during the February Art Walk, along with Santa Ana Planning Commissioner Sean Mill.  While we were visiting with Matt Southgate, at the Studio Del Sotano, I wandered over to his new neighbor, Seven 1 Four Underground.
I found out that this new gallery is quite different – their services and products include:
Tattoo Supplies
Tattoo Kits
Tattoo Machines
Disposable Tubes
Flash
Body Jewelry
Plugs
Hoops
and Dermal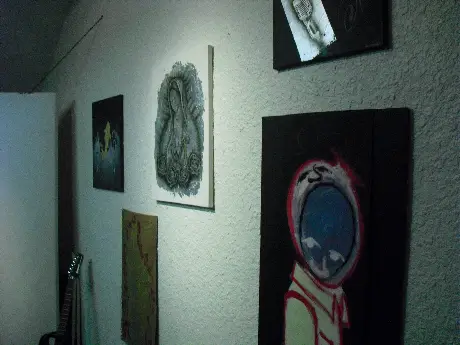 Seven 1 Four also is home to SA Cheapskate, which offers custom airbrushed skateboards and supplies.
They would love to offer tattoos, but first we will have to work on changing the zoning ordinance for the area.  For whatever reason, the folks at City Hall have not been very warm to the idea of tattoos, but the fact is that tattoos are an accepted art form.  Some of the wealthiest people (athletes and musicians) are covered in tattoos.  The gang stigma is really just a small sliver of the tattoo universe and should not be a reason to ban tattoo shops in our downtown.
Seven 1 Four Underground is a group of active and dedicated artists from different corners of Orange County.  Their goal is to diversify the car and bike culture by working on projects together and sharing their personal techniques and experience to give their clients a wider spectrum of choices for their unique projects.
Seven 1 Four Designs can handle full show ready paint jobs, including air brushing, but they also offer a weekend cruiser special which varies in pricing according to your vehicle and layout desired.
Come by and see them at their gallery, located at 207 N Broadway, Suite B-10, in Downtown Santa Ana, at the Santora Building.
Be sure to call if you would like to be one of their featured artists: (714) 597-0716 / (714) 307-6704.