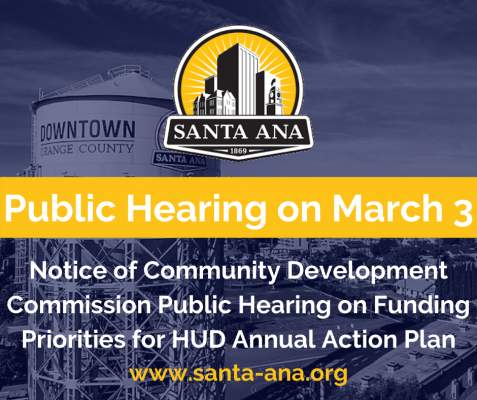 The City's Community Development Commission will hold a Public Hearing on Wednesday, March 3, 2021, at 4 p.m. via teleconference to receive public testimony and input on funding priorities and community needs for the Fiscal Year 2021-2022 HUD Annual Action Plan.
The estimated amount of funding the City anticipates it will receive for FY 2021-2022 is as follows:
Community Development Block Grant Program: $5,734,644
Home Investment Partnerships Program: $1,818,164
Emergency Solutions Grants Program: $500,947
The City of Santa Ana encourages the public to participate in the decision-making process. The following notice is being provided so that you can ask questions, make comments and stay informed about projects that might be important to you. We encourage you to contact us if you have any questions.
The Fiscal Year 2021-2022 Annual Action Plan details the housing, community and economic development needs for the City of Santa Ana, and the priorities, strategies, and projects that will be undertaken by the City to address those needs with funds the City receives from the U.S. Department of Housing and Urban Development (HUD).
The meeting agenda will be available at least 72 hours in advance.
In an effort to protect public health and prevent the spread of COVID-19 (coronavirus), there will be no in-person public meeting location. The public can participate virtually via Zoom.
Go here to see the agenda and to learn more about virtual meetings, how to participate and how to watch the meeting on YouTube.
Learn more about the funds and how to participate in the hearing at: https://bit.ly/3bvSyrf.
Questions?: Please contact David Flores, Community Development Analyst, at (714) 647-6561 or by e-mail at dflores@santa-ana.org.
Spanish/español: https://bit.ly/3aNdwTd
Vietnamese/Tiếng Việt: https://bit.ly/3dHjBTk