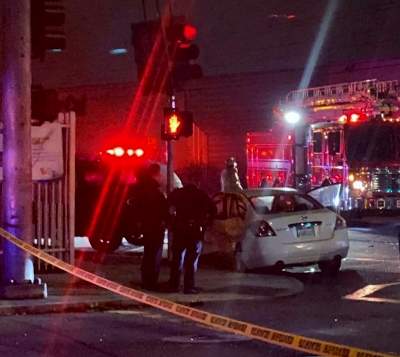 We reported a hit and run crash very early yesterday morning, at Flower Street and Warner, after getting a tip from a reader, who also sent us a picture of the scene.
Now we know what happened! Two people were injured after a stolen SUV filled with suspects crashed into another vehicle, late on Monday night, according to the City News Service.
A Chevrolet Suburban stolen in the City of Covina, and occupied by four suspects, crashed into another vehicle at around 11:05 PM.
While the suspects ran off as police officers responded to the scene, they were quickly caught and arrested.
The drivers of both vehicles were taken to local hospitals with injuries describes as non-life threatening.
An unfortunate utility pole was also damaged in the crash, which led to area roads being closed for several hours.
The SAPD is still investigating this incident. No details were released regarding the suspects.