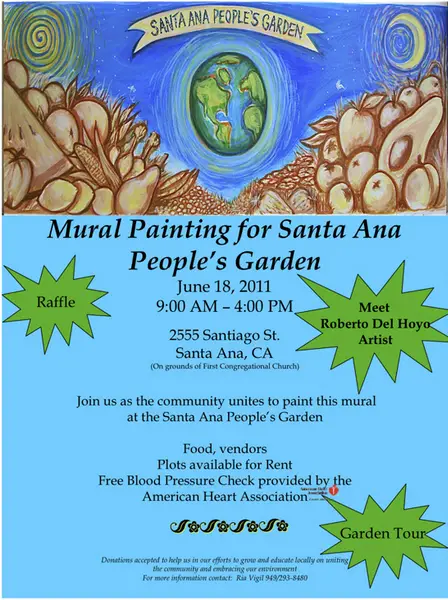 The supporters of the Santa Ana People's Garden are gathering to help Mural Artist Roberto Del Hoyo continue his legacy of beautifying our community. His work can be found several locations in Santa Ana; Memorial Park, El Salvador, Santiago Creek and now the Santa Ana People's Garden.
Join the Santa Ana People's Garden as they continue the flow of WALL ART in our community garden.  The event will feature food, music, raffles, tour of the garden & opportunity to paint with Roberto Del Hoyo of www.idealwallarts.com.
They will also have the American Heart Association there to promote healthy hearts. Step up to get a free blood pressure test.
Also, they will have a few booths set up to educate the public on the purpose of growing your own food and learning about the local wildlife/native plants.
Click here to RSVP on Facebook.
Plots are available for rent. Call Ria Vigil at 949-293-8480 or email her by clicking here.
The event will be held at 2555 Santiago St., on the grounds of the First Congregational Church, in Santa Ana's Park Santiago neighborhood.