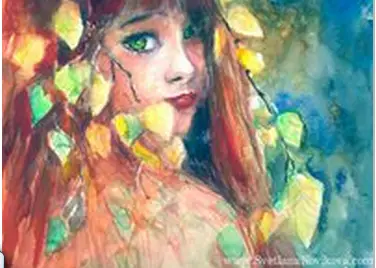 On June 18th, Santa Ana's very own Joni Renee will host "Forests, Faeries, and Mudberries", a multi-gallery art charity event sponsored by the Amazon Conservation Association, American Chestnut Foundation, Tree People, American Forests and Forest Trends.
The purpose of this event is to raise awareness and funding for reforestation of our planet. All art is fairy, forest or woodlands themed, and the artists will be dressing up. Our incredible evening includes games, face painting, dancing, crafts, story time, snacks, and lots of fun fairy merriment. All guests encouraged to wear their pixie wings!
5:40 Music by Donald Sartoris
6:00 Music by Briana Harley
6:30 Music by Evan Robert Cassidy
7:30 $5 face painting by Robin Cohen
8:00 Music by Donald Sartoris
9:30 Music by Roosterhead
Time: Saturday, June 18 · 6:30pm – 11:00pm
Location: Santiago Art District Art Walk – on the corner of Santa Ana Blvd and Santiago Blvd (park in the train station parking lot across the street – it's free all night!).
Free music and wine all night! 50% of ANY SALE made during this event will benefit the reforestation charity of your choice.
This event will span FOUR galleries: Karman Orange Gallery, Kavika Works Gallery, Barry Berman Gallery, and the Joni Renee Gallery.
Free with a suggested $5 donation. Fairy costumes encouraged.
Visual Artists:
Jack Pan
Donna Letterese
Tammy Ngo
Elizabeth Zaikowski
Eric Melo
Sassy Garcia
Robin Cohen
Ceci Ortiz
Carla Lra
Carli Martin
Rachel Eliza
Kristin Meyers
Christy Kendall
Kendra Ortscheid
Melissa Vilchis
Henry Cuellar
Yael Degany
Carolyn Yarnell
Mica Teal
Kim Jacobi
Nairi Amirkhanian
Henry Cuellar
Katie Pizzi
Paulina Ruiz
Amanda Ortscheid
Betsy Ullery
Scott Schryder
Sey Studios
Joni Renee
Food Trucks:
Crepes Bonaparte
Oh for Sweets Sake
Dos Chinos
Piaggio On Wheels
Event decor by Oscar C
Tea sandwiches by Piper E
Giveaways:
Bumper stickers
Books
Leaflets
Recipes
About the Santiago Art District Art Walk:
The art walk begins at 7 PM and some galleries stay open as late as 11 PM or even later. With nearly 15 galleries to visit, all showing various types of works in various mediums, there's something for everyone. Santa Ana is quickly becoming Orange County's premier city for art, music, and food. Stay for a bit at each gallery and meet the artists.
Charities and partners:
TreePeople is an environmental nonprofit that unites the power of trees, people and technology to grow a sustainable future for Los Angeles. Simply put, our work is about helping nature heal our cities. TreePeople's mission is to inspire, engage and support people to take personal responsibility for the urban environment, making it safe, healthy, fun and sustainable and to share the process as a model for the world. TreePeople's long-range vision is to green Los Angeles by establishing a Functioning Community Forest where local residents and businesspeople have joined together to transform their neighborhood into a sustainable ecosystem that functions like a healthy, natural forest.
Volunteer or donate directly at (818) 753-4631.
Founded in 1999, the Amazon Conservation Association (ACA) works to conserve the biological diversity of the Amazon. We work to protect biodiversity by studying ecosystems and developing innovative conservation tools to protect land in the region while supporting the livelihoods of local communities. We work by forging ties with governments, nonprofits and people who depend on the rainforests for their livelihood, with the goal of saving rare species and habitats and learning from the land. Scientific research guides our approach, which strives for concrete, measurable achievements. ACA has offices in Washington, DC and La Paz, Bolivia. Donate directly at: (202) 234-2356
The American Chestnut Foundation (TACF) was founded in 1983 to restore the American chestnut tree to its native range within the woodlands of the eastern United States using a scientific research and breeding program developed by its founders. We harvested our first blight-resistant nuts in 2005, and the Foundation hopes to begin reforestation trials with blight-resistant American-type trees before the end of this decade, using sound ecological principles. We also provide educational opportunities to our nation's youth through our educational outreach programs, including the Charlie Chestnut Environmental Program and the Chestnut Tree Loaner Laboratory. Donate directly at: (828) 281-0047
American Forests is a world leader in planting trees for environmental restoration, a pioneer in the science and practice of urban forestry, and a primary communicator of the benefits of trees and forests. American Forests is the nation's oldest citizens' conservation organization. Citizens concerned about the waste and abuse of the nation's forests founded American Forests in 1875. Today, the organization's primary campaigns are Tree-Planting for Environmental Restoration and Reversing the National Urban Tree Deficit, which encourage people to improve rural, suburban, and urban ecosystems by planting and caring for trees that provide important environmental and economic benefits including pure water, clean air, and wildlife habitat. Donate directly at: (202) 737-1944
Founded in 1996, Forest Trends works to expand the value of forests to society; to promote sustainable forest management and conservation by creating and capturing market values for ecosystem services; to support innovative projects and companies that are developing these new markets; and to enhance the livelihoods of local communities living in and around those forests. We analyze strategic market and policy issues, catalyze connections between forward-looking producers, communities and investors, and develop new financial tools to help markets work for conservation and people. Donate directly at: (202) 298-3000