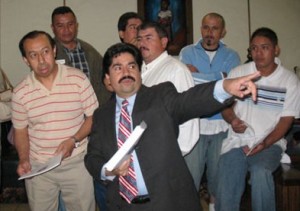 For Immediate Release: November 1, 2011
For More Information Contact: Carol Chamberlain – office: (916) 319-2069, mobile: (916) 804-5355
State Assemblyman Jose Solorio Makes Job Seekers Resource Guide Available
Comprehensive guide to public and private sector job training opportunities aims to help Orange County's unemployed get back on their feet
ANAHEIM – State Assemblyman Jose Solorio (D-Anaheim) is proud to announce the release of his Job Seekers Resource Guide. He is optimistic that the information found in the guide will assist unemployed Orange County residents find new job opportunities.
"I wanted to provide material that directly assists the unemployed of Orange County," Solorio says. "Currently, there is a growing need for skilled workers, and there are many resources available to acquire those skills. This job seekers guide provides a wealth of information to give the unemployed the jumpstart they may need."
The new Job Seekers Resource Guide lists an array of local, State and private workforce development centers, occupational programs, continuing education hubs and adult education platforms to assist individuals in finding jobs and exploring new career opportunities. The guide identifies resource centers located in the cities of Anaheim, Garden Grove, and Santa Ana, and includes centers in other parts of Orange County such as the cities of Buena Park, La Palma, Orange and Westminster.
To receive a copy of the Job Seekers Resource Guide in the mail, call Assemblyman Solorio's District Office at (714) 939-8469 or e-mail your request to kim.nguyen@asm.ca.gov.
"I encourage job seekers to visit resource centers throughout the county to assess what course of action is right for them," Solorio advises. "It is tough out there, but the job seekers who do their homework are the ones that get hired first."
According to the California Employment Development Department's most recent monthly job report, Orange County's unemployment rate dropped from 9 percent to 8.6 percent, and the state's unemployment rate fell to 11.9 percent, the first time under 12 percent since June. However 2.2 million Californians remain unemployed.
State Assemblyman Jose Solorio is the Chair of the Assembly Insurance Committee and also serves on the Assembly Appropriations and Transportation committees. He represents the Sixty-Ninth Assembly District, which includes the cities of Anaheim, Garden Grove, and Santa Ana. For more information about Assemblyman Solorio, visit www.assembly.ca.gov/solorio.
###