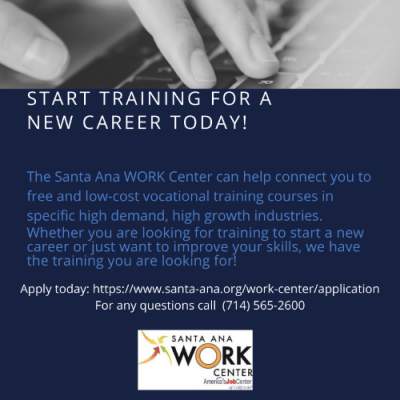 The Santa Ana WORK Center can help connect you to free and low-cost vocational training courses in specific high-demand, high-growth industries.
Whether you are looking for training to start a new career or just want to improve your skills, we have the training you are looking for!
Courses are offered through partnering community colleges, universities and vocational schools.
You must meet program requirements to receive services.
Apply today: www.santa-ana.org/work-center/application
For any questions, call (714) 565-2600.
¡Comience a Entrenarse para una Nueva Carrera Hoy!
El Centro de Trabajo de Santa Ana (Santa Ana WORK Center) puede ayudarlo a conectarse con cursos de capacitación vocacional gratuitos en industrias de alto crecimiento.
Ya sea que esté buscando comenzar una nueva carrera o simplemente desee mejorar sus habilidades, ¡tenemos la capacitación profesional que está buscando!
Debe cumplir con los requisitos del programa para recibir servicios.
Aplique hoy: www.santa-ana.org/work-center/application
Para preguntas, llame al (714) 565-2600.