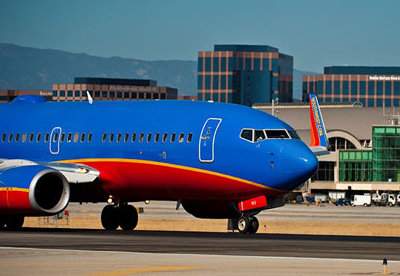 FOR IMMEDIATE RELEASE
Contact: Jenny Wedge, (949) 252-5182, jwedge@ocair.com
SOUTHWEST ANNOUNCES NEW NONSTOP SERVICE FROM JOHN WAYNE AIRPORT
SANTA ANA, Calif. – More nonstop flights are taking off from John Wayne Airport (JWA). Travelers will be able to fly on Southwest Airlines to Seattle (SEA) and Chicago (MDW) beginning June 28, and to Portland (PDX) beginning August 9, 2015. Southwest also announced its plans to increase the number of daily, nonstop departures between John Wayne Airport and Dallas-Love Field (DAL) and Denver (DEN) effective August 2015. As previously announced, the airline plans to inaugurate daily service to Puerto Vallarta, Mexico (PVR) on June 7, 2015, subject to governmental approvals and to Austin (AUS) on June 28, 2015.
With the new Southwest service, JWA will now offer more than 10 nonstop flights each day to Denver, Seattle and the Dallas area and five daily nonstop flights to Portland. Alaska Airlines also offers daily nonstop service to Portland and Seattle. Frontier Airlines and United Airlines offer daily nonstop flights to Denver, and American Airlines offers daily nonstop service Dallas (DFW) and Chicago (ORD).
See all of John Wayne Airport's domestic and international nonstop destinations here.
More information about Southwest Airlines:
Visit the Southwest Newsroom at www.swamedia.com
Media Relations Team: swamedia@wnco.com or 214-792-4847, option 1
###
ABOUT JOHN WAYNE AIRPORT
John Wayne Airport (SNA) is owned by the County of Orange and is operated as a self-supporting enterprise that receives no general fund tax revenue. The Airport serves more than nine million passengers annually and reaches more than 20 nonstop destinations in the United States, Canada and Mexico. More information can be found at www.ocair.com. Like us on facebook.com/johnwayneairport, or follow us on Twitter @johnwayneair and Instagram @johnwayneair.
ABOUT SOUTHWEST AIRLINES CO.
In its 44th year of service, Dallas-based Southwest Airlines (NYSE: LUV) continues to differentiate itself from other air carriers with exemplary Customer Service delivered by more than 46,000 Employees to more than 100 million Customers annually. Southwest operates more than 3,400 flights a day, serving 93 destinations across the United States and five additional countries. Subject to government approvals, Southwest service to service to Puerto Vallarta, Mexico, begins in June 2015.